Swedish public sector IT specialist Borderlight AB has announced a 5MW data center in Stockholm, which will export server heat so it can be used to keep residential properties warm.
The project is part of Stockholm Data Parks – a government-backed initiative launched in January 2017 that hopes to eventually supply 10 percent of the city's heating needs, by connecting data centers to its district heating system.
Specialized server equipment for the project – with power densities as high as 100kW per rack - will be supplied by Borderlight's sister company GoGreenHost, while utility provider Fortum Värme will take care of all aspects of waste heat capture and transport.
Sten Oscarsson, CEO of Borderlight and GoGreenHost, told DCD that he expects the data center to come into operation in the next six to 12 months.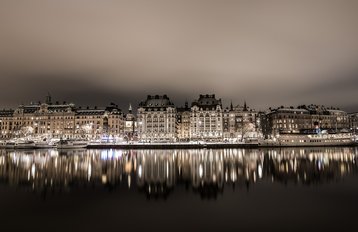 Heat as a commodity
Stockholm Data Parks offers potential data center developers access to land, power and some interesting cooling options. A total of four sites have been earmarked for development, with the first located in the in the suburb of Kista.
The main selling point of the initiative is the ability of operators to sell their server heat, which is usually simply vented into the atmosphere.
This is possible thanks to Stockholm's extensive district heating system, which connects nearly ninety percent of all buildings in the city and is managed by Fortum Värme.
The latest data center in Kista will be built by Borderlight, an IT and networking provider established in 2001 and one of just five IT companies authorized to offer telecommunications services to the Swedish government.
Borderlight will use specialized server blades and racks that will be cooled using some kind of "fluid-based system" – although the company keeps the details a secret.
"We realized that, to make this work in reality, you have to redesign the whole structure of your data center, with completely new design for servers," Oscarsson told DCD.
He said that hardware from GoGreenHost has been specifically created to produce heat at high temperatures of up to 110 degrees Celsius, making data center fulfil all requirements of high quality district heating plants.
According to Fortum Värme, at full occupancy the facility could produce enough heat to supply 10,000 apartments, and the customers are already lining up to participate in further projects of this kind.
"Our plan is to contract installation of 30 MW in new data center capacity 2017 and another 60 MW 2018 in sizes from 1-6 MW per site, all connected to a redundant high capacity fiber backbone."
Fortum Värme is no stranger to heat recapture projects – its existing data center partners include Bahnhof, Sweden's oldest ISP.