Boeing Defence Australia has completed the delivery of its Currawong integrated battlefield telecommunications network for the Australian military.
The project which began back in 2015, has lasted the best part of eight years, saw Boeing tasked with modernizing the Australian Army's battlefield telecommunications network under Land 2072 Phase 2B.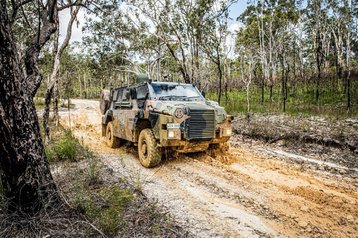 The AU$875 million ($566m) Currawong program has been hampered by delays, notably due to supply chain issues and the Covid-19 pandemic.
Over 200 people have worked on the project to build, design, and develop the system, which will provide the Australian Army with more access to voice, data, and video services in the field.
'Currawong' was given its name by the Australian Army, with the system comprising all of the technology and hardware needed to enable deployed forces to securely connect and headquarters from anywhere in the world, anytime, with these communications systems mounted on Bushmaster vehicles.
It provides multiple transmission options says Boeing, which ranges from Wideband Global Satellite to fiber to public networks, while its services can be tailored to any sized mission — from supporting a small unit to providing full remote headquarter operations.
"The Currawong Battlespace Communications System is one of the most successful complex development programs undertaken in our recent history," said Scott Carpendale, vice president, and managing director of Boeing Defence Australia.
Carpendale adds that roughly AU$700m ($453m) was invested in the design, development, and production for the build of the purpose-built system.
More than 220 small to medium-sized Australian businesses have supported the build of Currawong, by testing the prototype and providing feedback for improvements.
"More than 220 Australian businesses provided everything from ground-up electronics to mechanical and software development," said Tom Minge, Boeing Defence Australia Currawong program director.
"Their capacity to respond to changing customer requirements with agility, to push boundaries and work at pace has been vital to BDA's ability to innovate and successfully deliver our milestones on time and on budget."
The Australian government has funded the "continued evolution and development of the system through to 2026", added Minge.