Fuel cell specialist Bloom Energy has made an initial public offering on the New York Stock Exchange on Wednesday, pricing 18 million shares at $15 apiece.
The share price saw a 67 percent increase in the first day of trading, closing at $25 - an early indicator of success for an innovative technology business.
Bloom makes solid oxide-based fuel cells that can be used to transport and store energy for extended periods of time. Among other applications, these Bloom Energy Servers have been used to ensure uninterruptible power supply in data centers.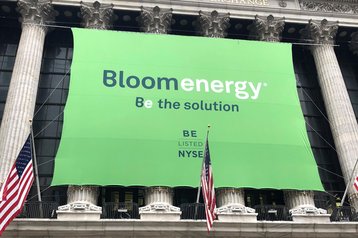 Clean tech
California-based Bloom Energy was established in 2001 to commercialize fuel cell technology. Its products generate electricity through an electrochemical process that uses air and natural gas, releasing water and a small amount of carbon dioxide as by-products.
Each Energy Server produces 200 to 300 kW of power in a footprint roughly equivalent to that of half a standard 30-foot shipping container.
Bloom's data center customers include Equinix, Apple, AT&T, eBay, Verizon, CenturyLink, NTT and JP Morgan Chase, to name a few. In total, the company has deployed its products across 500 locations worldwide.
Bloom is also a familiar fixture at data center events held by DCD, both in the US and in the UK.
The company filed for an IPO in June, looking to raise $270 million. By this point, it had already attained the status of the 'unicorn,' having accrued more than $825 million in venture capital and being valued at $1.6 billion.
At the same time, Bloom is yet to make any profit – it lost $281.3 million in 2017, according to pre-IPO documents.
"We have a limited history operating our business at its current scale, and therefore a limited history upon which you can base an investment decision," Bloom said in its SEC Filing, when discussing risk factors.
"Enterprises may be unwilling to adopt our solution over traditional or competing power sources for any number of reasons including the perception that our technology is unproven, lack of confidence in our business model, unavailability of back-up service providers to operate and maintain the Energy Servers, and lack of awareness of our product."
Post-IPO, Bloom CEO K.R. Sridhar told MarketWatch that he expected the company to become cash-flow positive this year, and start bringing in net profit in the nearest future.