TAAL Distributed Information Technologies is buying a fuel firm in Grand Falls, New Brunswick, to get hold of a warehouse which it plans to convert into a Bitcoin mine drawing up to 50MW
British Columbia-based TAAL is buying 100 percent of Chief Fuels, a Native American-owned firm whose chief asset is a 60,000 sq ft warehouse with access to electric power. The deal is for TAAL shares currently worth around $16.5 million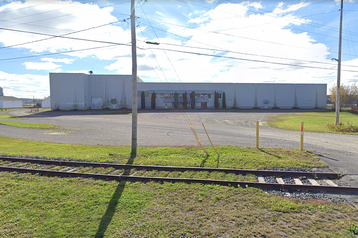 If TAAL completes its plan, the deal would make the second Bitcoin mine in Grand Falls, which has a population of less than 6,000
Potato pallet plant
Chief Fuels bought the 2.5- hectare pallet plant and warehouse at 71 CN Road for $1 million in 2018, according to local news source AllNewBrrunswick. The warehouse was built 20 years ago, and previously owned by food giant McCain Foods, which operates a fry factory nearby in Grand Falls. McCain reportedly ran a fertilizer plant there till two years ago.
The main attraction of the site is its access to cheap renewable power, according to Matthew Whitcomb, who handles TAAL's investor relations. "The asset behind it (the warehouse) is also access to the power grid. We're able to tap into the grid and the max capacity is 50 megawatts," he told the news site.
The electricity is from a renewable source - a large local hydroelectric dam, he said: "It's a great place to pull power from, especially in a safe jurisdiction like Canada."
TAAL plans to perform up to 2 Exahash per second (2Eh/s )of blockchain computation, and will work with local utility New Brunswick Power Corporation to provide the power supply needed.
TAAL claims to offer "business blockchain" services, but its operations seem to be predominantly bitcoin mining. It reported $12.4 million in revenue for the last quarter, and holds around 69,000 bitcoin in September 30, down from 76,000 the previous quarter, having sold coins to run its sites.
Chief Fuels is a majority Indigenous-owned bulk fuel and lubricant company, affiliated with Michaud Petroleum, a Shell wholesaler led by Hermel Michaud. Chief Fuels owners will be issued with its TAAL shares "as milestones are reached over time" and cannot trade the TAAL shares until January 2023.
Grand Falls Mayor Marcel Deschenes welcomed the announcement: "We're talking probably 60 jobs once it's fully operational. That is great."
Back in February 2021, Hive Blockchain Technologies Ltd bought a 50MW data center campus in Grand Falls through the acquisition of GPU.One subsidiary GPU Atlantic Inc. The company now says it is nearing the completion of two facilities in Grand Falls. The data centers are due to start operation in January and March - but the company reportedly already has 8,000 new ASIC mining rigs on site using around 30MW of power.
NB Power describes its power as largely green - it is 40 percent renewable, from sources such as the seven hydroelectric dams it operates in the region, totaling 889MW. The company also operates the 660MW Point Lepreau Nuclear Generating Station, and claims to be 80 percent non-emitting.