Belgian operator LCL Data Centers has signed up to the Science Based Targets initiative (SBTi), promising to reduce greenhouse gas emissions from its data centers.
As well as the SBTI initiative, LCL has joined the the Climate Neutral Data Centre Pact (CNDCP), under which Europe's cloud and data center providers have promised to regulate their own trajectory to carbon neutrality by 2030. LCL is the tenth Belgian company to join the SBTi, and the first Belgian data center operator to do so.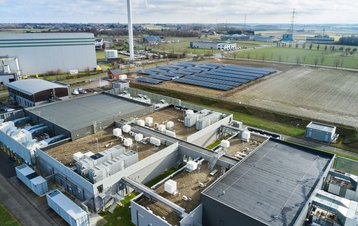 The SBTi, a corporate climate action group, helps individual organizations set appropriate targets for the global goal to keep warming below 1.5C. It contributed to the ITU's L.1470 standard intended to encourage collected emission-reduction trajectories for operators of mobile networks, fixed networks and data centers. Around 2,200 companies worldwide have joined the initiative.
Follow the science
Having signed with SBTi, LCL has used a specialist consultancy firm, Encon, to audit its data centers' greenhouse gas emissions, and use this data to set clear and achievable objectives.
"We have always viewed sustainable development as essential," said Laurens van Reijen, managing director of LCL. "Sustainable development is also about well-being at work – by creating a safe environment for everyone working at or visiting LCL – as well as studying ways to work more sustainably in all possible fields. These initiatives also benefit our customers, because they host their servers and telecommunications infrastructure on our premises."
To set the targets, Encon helped LCL make calculations based on the value chain standard for the Greenhouse Gas Protocol (GHG Protocol), mapping the emissions from its data centers, according to all three Scopes - direct emissions (consumption of diesel, use of refrigerants, etc.), indirect emissions (e.g. the purchase of electricity), and indirect emissions for upstream activities (e.g. the cleaning team's transport or goods purchased) and downstream activities (e.g. waste disposal).
At this stage, LCL is addressing the first two scopes, with Scope 3 coming in future, said ohan Overloop, data center facilities manager: "Initially the SBTi includes a calculation for the first two scopes mentioned above, so as to determine emissions and actions to be taken to reduce them. We asked our consultancy to not only take into account the third scope, but also to start planning for this today. This enables us to anticipate what's going to happen and to move forward immediately."
The company started out with a good score, says Mieke Germonprez, quality manager: "For instance, we purchase lots of green energy and we produce our own energy thanks to solar panels. Naturally, we can still make improvements. LCL sees this mainly as a more long-term project. For example, if you replace existing facilities with new technologies, you will make sustainable savings on energy consumption and thus on CO2 emissions. Sustainable investments are beneficial for our current economic situation, as well as for our future. This is how we can combat climate change and take future generations into account."