Pan-Asian data center firm Big Data Exchange (BDx) is to develop a new data center in Hong Kong.
The company this week announced its plan to develop a new 16MW facility in an upcoming high-tech industrial area being developed by Hong Kong property developer Sino Group.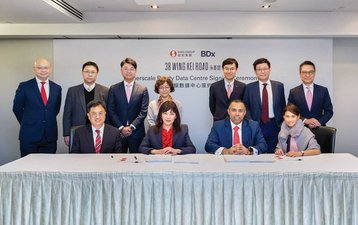 Located in the heart of the Kwai Chung District, the new facility will be BDx's fourth in Hong Kong and be called HKG8. The firm is targeting a go-live date for the facility by the end of 2023.
"BDx is pleased to announce our new data center to further our commitment to the Hong Kong market. We are pleased to work with Sino Group to develop our next-generation, hyperscale-ready site, which is designed with fail-safe features and a clear focus on sustainability," said Mayank Srivastava, CEO of BDx. "With HKG8, our newest data center in Hong Kong, we continue to expand our footprint across Asia with sustainable, high-quality sites."
According to its website, Bdx's Hong Kong footprint currently comprises the 120,000 sq ft (11,150 sqm), 5MW HKG1 site in Wong Chuk Hang, and the 110,000 sq ft (10,220 sqm), 4MW HKG2 site in Kwai Chung.
Established in 1971, Sino Group comprises three listed companies – Sino Land Company Limited, Tsim Sha Tsui Properties Limited, Sino Hotels – and a number of private companies held by the Ng Family. The Group owns a portfolio of residential, office, industrial, retail, and hospitality properties across Hong Kong, mainland China, Singapore, and Australia, and has developed over 250 projects spanning more than 130 million square feet.
"As we complete the construction of our 191,000 square foot (17,750 sqm) industrial building, we are proud to welcome BDx as our major tenant," added Bella Chhoa, Director of Asset Management of Sino Group. "Recent years saw the thriving development of innovation and technology, and Industry 4.0 has quickly become a global trend. Amid these developments, Sino Group launched a brand new industrial development, 38 Wing Kee Road, with BDx becoming a major tenant."
38 Wing Kee Road totals 18 stories and is due for completion in the second quarter of 2023 (back from Q4 2022). Each floor spans 12,314 sq ft (1,144 sqm). BDx is set to be the largest tenant at the new building.