American modular infrastructure specialist Baselayer has announced a strategic partnership with Siemens.
As part of this relationship, Baselayer will integrate Siemens power distribution, metering, and fire safety equipment in its data center modules, and improve compatibility between this hardware and IO's infrastructure management software.
The partners say Siemens kit will help data center operators get better insight into power flow, resulting in greater energy efficiency.
The deal was announced at the DCD as-a-service event in Chicago, which concluded last week.
Data center in a box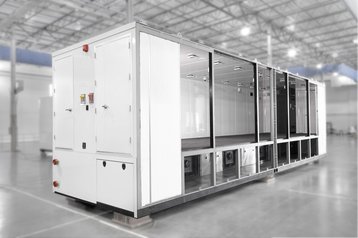 Baselayer was spun off as an infrastructure subsidiary of IO in early 2015. The parent company continues developing DCIM software called IO OS, while Baselayer has taken responsibility for Anywhere data center modules, including Core, Edge and Eco ranges.
Baselayer Anywhere modules are based on shipping containers, and are known for their ability to be plugged directly into the utility grid without the need for backup generators.
The partnership with Siemens will enable Baselayer to further improve on its claim of 19 percent energy reduction and $200,000 per megawatt of operational savings, when compared against traditional brick-and-mortar facilities.
For example, the intelligent busway from Siemens will help reduce the footprint of power distribution equipment within the container – where space is at a premium - and enable each module to fit more IT equipment.
"By entering into this partnership with Baselayer, Siemens is better positioned to bring our intelligent data center technologies to the modular data center space and deliver added value to consumers of Web-scale and High Performance Computing (HPC) applications, while also bringing innovative products into data-intensive verticals like telecom and healthcare," said John Kovach, global head of Data Center Solutions at Siemens.
"Working with innovative partners such as Baselayer allows us to collectively deliver advanced technology in an incredibly reliable, efficient, and cost-effective manner."