Chinese search engine giant Baidu has announced the immediate availability of AMD Epyc-powered AI, big data, and cloud computing services.
Baidu is using single-socket Epyc-based servers, which the company said allow it to optimize and deliver massive storage and compute services. The company plans to deploy more Epyc chips across its global data centers, beginning in the first quarter of 2018.
One socket to rule them all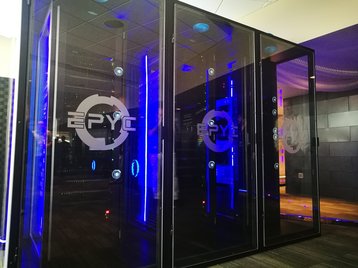 "By offering outstanding performance in single-processor systems, the AMD Epyc platform provides flexibility and high-performance in our data center, which allows Baidu to deliver more efficient services to our customers," Liu Chao, senior director of Baidu System Technologies Department, said.
"Baidu's mission is to make a complex world simpler through technology, and we are constantly looking to discover and apply the latest cutting-edge technologies, innovations, and solutions to business.
"AMD Epyc processors provide Baidu with a new level of energy efficient and powerful computing capability."
Scott Aylor, corporate VP and GM at AMD Enterprise Solutions, added: "Baidu is a long-recognized pioneer in data center innovations, and with their adoption of AMD Epyc they continue down that path by leveraging our single-socket innovations to power their ABC strategy."
Back in June at the Epyc launch event, Aylor told DCD: "We've architected Epyc with this one socket mindset in mind, and this really gives you this capability to right-size or optimize your servers. There's many different statistics about how many OEM systems that are two socket capable are populated with one socket, and those again are things that are opportunities for optimization.
"This also drives lower power consumption and up to 20 percent lower capex."
The deal with Baidu, which also uses AMD Radeon Instinct GPUs in its data centers, comes just a week after AMD announced Microsoft would be using Epyc in L-Series instances - a sign that AMD might manage to claw back some share of the x86 market, currently dominated by Intel.
"At our peak we were at 25 percent, right now we're at… let's call it less than one percent," AMD CEO Dr Lisa Su told DCD in June.
"It's all upside. I think a very reasonable goal for us, hopefully sooner than 2020, is to get back to double digit share. If we get back to 10 percent share plus – think about it, just the CPU market is a $16 billion market. That's a significant opportunity for us, and that's an intermediate goal, not the final goal."