The UK Ministry of Defence's (MoD) has awarded defense contractor Babcock a contract to manage and operate military satellite communications system Skynet.
The six-year contract has an initial value of more than £400 million ($482m) and is part of the MOD's £6bn ($7.2bn) Skynet 6 program.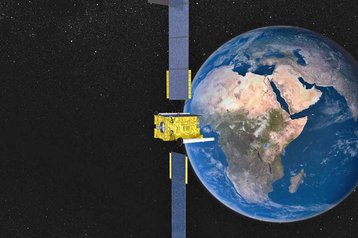 "We are delighted to have been chosen to support this world-leading technological safeguard," David Lockwood, CEO for Babcock, said. "Skynet enables vital communications to the UK Armed Forces wherever they are, helping to keep them safe."
Skynet actually dates back to 1969, when it was the world's first geostationary defense communications satellite.
After going through various stages, Skynet 5 launched in 2007. In total, four SK5 satellites, based on the Eurostar 3000S satellite bus, were launched up until 2012.
Skynet 6, based on the Airbus Eurostar Neo satellite bus, is the latest generation of UK military communications satellites, with the first set to be launched in 2025.
"Space is increasingly important for maintaining battlefield advantage," Alex Chalk, Defence procurement minister, said.
"The UK's next-generation military satellite communications system will keep us at the forefront of this critical domain and the work under this contract will bolster our resilience for years to come."
For the contract, Babcock will lead 'Team Aurora,' which includes SES, GovSat, and Intelsat. Rival bidders include Lockheed Martin UK, Serco, Inmarsat, Viasat, and Airbus Defence and Space.
Skynet groundstations are currently operated by Airbus, but will be transitioned over to Babcock by March 2024.
In addition to operating Skynet 6A, Babcock will operate the MoD's current fleet of four Skynet 5 satellites.