Amazon Web Services has launched a cloud infrastructure region based in London, its third in Europe and 16th worldwide.
New data centers will enable customers from all over the world to store data in the UK, and enjoy low latency connections to local services.
The London region offers two availability zones at launch, with more expected to be added in the future. The facilities were opened ahead of schedule, having been originally planned for the beginning of 2017.
"For the past decade, we've had an enthusiastic base of customers in the UK choosing to build their businesses on the AWS Cloud because it has more functionality than other cloud platforms, an extensive APN [Amazon Partner Network] Partner and customer ecosystem, as well as unmatched maturity, security, and performance," said Andy Jassy, CEO of AWS.
"A local AWS Region will serve as the foundation for even more innovative cloud initiatives from the UK that can transform business, customer experiences, and enhance the local economy."
Big Smoke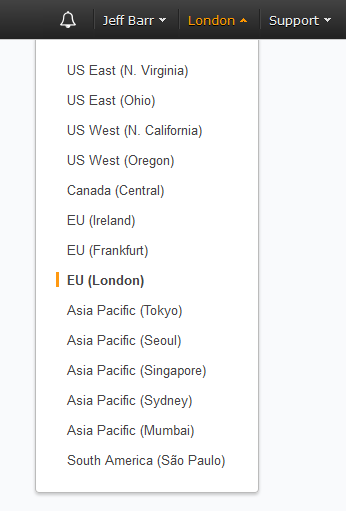 AWS says it has over 100,000 active customers in the UK, including organizations like British Petroleum, Financial Times, Genomics England and Transport for London.
With the launch of a new region, these customers will get the choice to host their cloud infrastructure locally, without having to route traffic to Ireland or Germany, where AWS hosts another two European regions.
The London region includes two availability zones, which means it consists of at least two data centers, designed and built to replicate hyperscale infrastructure that Amazon has deployed around the world.
Just like the rest of the AWS fleet, the facilities in London will offer services like Amazon Elastic Compute Cloud (Amazon EC2), Amazon Simple Storage Service (Amazon S3) and Amazon Relational Database Service (Amazon RDS). They will support all sizes of C4, D2, M4, T2, and X1 instances.
AWS also provides multiple Amazon CloudFront edge locations in the UK for customers looking to deliver applications and content to local end-users with low latency.
Friends in high places
AWS noted that it has been certified under the EU-US Privacy Shield, and its Data Processing Addendum (DPA) has been approved by the Article 29 Working Party, which means that customers can transfer personal data to countries outside the European Economic Area while still complying with EU data protection laws.
AWS has also worked with its partners to make sure that its cloud services comply with the requirements of the Public Services Network (PSN) and N3, the broadband network for the English National Health Service.
Karen Bradley, UK Secretary of State of Culture Media and Sport, said, "I'm delighted to welcome the opening of the UK Amazon Web Services Region, which is a strong endorsement of our approach to the digital economy. The new AWS Region shows a clear confidence in the UK being open for business and one of the best places in the world for technology companies to invest in and grow."
"We're one of the first governments to implement a cloud-first policy and our reforms have saved more than £3.5 billion," added Liam Maxwell, the UK Government's National Technology Advisor.
"We now have a competitive market to deliver cloud services onshore with the scale of AWS, meaning that companies and organizations can benefit from scalable, pay-as-you-go enterprise compute services."
With this launch, AWS now provides 42 availability zones across 16 technology infrastructure regions. Another five availability zones and two regions - in France and China – are expected to come online in the coming months.
AWS' availability zones are distinct geographic locations with enough distance between them to significantly reduce the risk of a single event taking out multiple sites, yet near enough for business continuity applications that require rapid failover.
Each availability zone enjoys independent power, cooling, physical security and network connectivity.