Amazon has signed a Power Purchase Agreement (PPA) to procure wind energy in Finland.
Energy company Renantis this week announced that Amazon has signed a PPA to be the corporate off-taker for the power from two of Renantis' onshore wind farms upon their completion.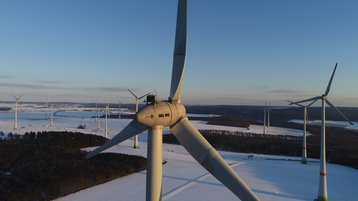 The two wind farms, known as Mustalamminmäki and Koiramäki, are located in Karstula, Central Finland. The farms will have a combined capacity of 59MW and are expected to produce a combined 174GWh of electricity annually.
Once in operation at the end of the year, their output will offset some of the energy requirements of Amazon Web Services' data centers in Europe.
"We are proud of Renantis' contribution to Amazon's sustainability goals by powering their business with our renewable energy. This is a great example of businesses and power producers collaborating to meet both business and sustainability objectives. We strongly believe in the importance of long-term contracts both for the energy producer and the energy buyer, taking steps towards a cleaner planet," said Toni Volpe, CEO of Renantis.
Lindsay McQuade, director of energy at Amazon, added: "The Mustalamminmäki and Koiramäki wind farms will soon be contributing to Amazon's commitments to address the impacts of climate change and our commitment to reach net-zero carbon by 2040. Power Purchase Agreements are an effective means of enabling investment to decarbonize electricity grids."
These are Renantis' first wind farms in Finland. Both plants will feature five Nordex N163 turbines with a total of 29.5MW generating capacity.
Based in Italy and formerly known as Actelios and then Falck Renewables, the Falck Group-owned Renantis develops, designs, constructs, and operates onshore and offshore wind farms, biomass plants, solar plants, and energy storage facilities globally. Founded in 2002, the company has 1,420MW of renewable energy in operation across the UK, US, Italy, Spain, France, and Norway.
Amazon is the largest corporate purchaser of PPAs in the world and procured 8.3GW of renewable energy in 2022. Earlier this year, the company said its total renewable energy portfolio now stands at more than 20GW across more than 400 projects in 22 countries.
2023 has seen AWS sign a 469MW PPA with Grenergy in Spain to procure the output of three solar farms. The company has also signed a PPA to procure wind energy from two Iberdrola farms in Germany, and a deal with Mercury in New Zealand to procure around half the output from the 103MW Turitea South onshore wind farm.
AWS doesn't currently operate a Finnish cloud region, though it operates a Local Zone Edge location in Helsinki.