Amazon Web Services has introduced support for virtualization software from VMware, in a deal that signals an uneasy truce between two companies.
The partnership was originally announced in October 2016, and will enable AWS customers to deploy VMware Cloud – based on familiar tools like vSphere, and fully integrated with the rest of Amazon's cloud product portfolio.
At the moment, access to VMware Cloud is limited to the AWS US West (Oregon) region, and will be expanded to more regions worldwide in 2018.
This follows several unsuccessful attempts by VMware to build its own public cloud business – prior examples include VirtuStream and vCloud Air, with the latter sold to French hosting company OVH earlier this year.
The announcement was made at the VMworld 2017 conference in Las Vegas.
Big deal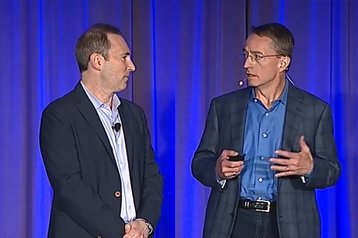 The new service aims to simplify workload migration between private cloud data centers – where VMware is the market leader – and public cloud data centers, where AWS rules supreme.
The partnership between the two companies enables customers to extend on-premises vSphere environments to an AWS data center, running identical software on top of bare-metal infrastructure. This marks the first time AWS customers have been permitted to use a non-Xen hypervisor.
Under the terms of the deal, VMware Cloud on AWS is delivered, sold, and supported by VMware.
"With the availability of VMware Cloud on AWS, for the first time customers can operate a consistent and seamless hybrid IT environment that combines the VMware software they love with the unmatched functionality, security, and operational expertise of the AWS Cloud," said Andy Jassy, chief executive officer at AWS.
"The majority of the world's enterprises have virtualized their data centers with VMware, and now these customers can easily move applications between their on-premises environments and AWS without having to purchase any new hardware, rewrite their applications, or modify their operations."
The VMware Cloud service on AWS already supports management and automation tools like vRealize Automation and vRealize Operations. In the future, it will add support for containerized workloads and DevOps services such as Pivotal Cloud Foundry.
It will also offer discounts to customers who already own on-premises versions of VMware vSphere, NSX, or vSAN.
Colocation and managed service provider Rackspace has already announced it will offer full technical support for WMware Cloud on AWS early next year. "Rackspace has extended its Fanatical Support to VMware technologies for more than 10 years, and VMware Cloud on AWS presents another opportunity to help mutual customers architect, manage and optimise their existing and future VMware-based applications," said Ajay Patel, senior vice president and general manager of Product Development for Cloud Services at VMware.