Amazon has launched AWS Managed Services to remotely manage customers' IT infrastructure on its cloud platform.
The company says that the new business is targeted at Fortune 1000 and Global 2000 companies, and is "designed to accelerate cloud adoption."
Amazon-as-a-Service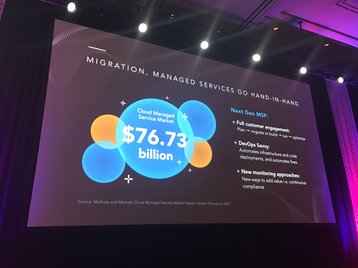 AWS Managed Services "simplifies deployment, migration, and management using automation and machine learning, backed up by a dedicated team of Amazon employees," AWS chief evangelist Jeff Barr said in a blog post.
"AWS MS builds on AWS and provides a set of integration points (APIs and a set of CLI tools) for connection to your existing service management system. We've been working with a representative set of AWS enterprise customers and partners for the last couple of years in order to make sure that this service meets a very wide range of enterprise requirements.
Barr added: "AWS MS is built around the concept of a Virtual Data Center that is linked to one or more AWS accounts. The VDC consists of a Virtual Private Cloud (VPC) which contains multiple Deployment Groups which consist of Multi-AZ subnets for a DMZ, shared services, and for customer applications. Each application or application component is packaged up into a Managed Stack."
Amazon's move into this market comes just a year after Rackspace started managing customer clouds, and may cut into the company's potential market share. Rackspace is an official partner of AWS MS, but companies can use Amazon's new service without having to rely on partners.
Cloudreach, another AWS partner, downplayed the threat of Amazon's entry into the market. Andre Azevedo, head of commercial and corporate strategy, said in a blog post: "If you're an MSP and think of AWS MS as a threat to your organization, you are probably in the wrong business."
"AWS MS is another accelerator of cloud adoption in general. It allows MSPs to focus on even more added value services to customers, as well providing them with scale."
He added: "At Cloudreach, being an AWS Premier partner and next-gen MSP ourselves, we embrace it unreservedly. It's another piece of a growing jigsaw that benefits customers and partners alike. We have in fact been actively working with AWS and contributing to the development of this project for the last couple of years."