The president of Argentina met with Amazon Web Services late last year as the country bids to be the home to a new South American data center, Bloomberg reports.
AWS had previously shown interest in launching in Chile, meeting with its government several times in 2017, but is now considering which nation to build in, people familiar with the matter said. One scenario, however, sees AWS building in both countries, one source said. The cloud giant already operates in Brazil.
A sign of progress for Argentina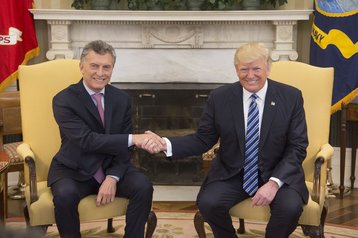 Argentinian President Mauricio Macri met with Elaine Feeney, Amazon's VP for global infrastructure expansion, in New York when he was in the US in November, 2017, to pitch the idea. 
An Amazon team also recently visited Argentina to assess the market for cloud services and learn more about the countries taxes, people familiar with the matter told Bloomberg.
Macri's pilgrimage followed Chilean President Michelle Bachelet's visit to Amazon's headquarters in June.
Earlier in the year, Amazon Web Services signed a memorandum of understanding with the government of Chile "to modernize government services within the country."
A few months later, Chilean ministry technical head Sebastian Beeche told Reuters that Amazon had expressed interest in placing a data center in Patagonia - the region at the southern end of South America, shared by Argentina and Chile.
He added that the company was keen to expand into Chile due to its relative economic and political stability and cooler climate.
Of potential interest for AWS is Chile's possible new submarine cable, a $550-$650 million project that would stretch some 20,000 kilometers (12,427 miles) from Patagonia to China.
In June, Chile's Undersecretariat of Telecommunications and China's National Development and Reform Commission signed a deal to carry out a feasibility study on the project, which would be the first fiber optic submarine cable to directly connect Asia with Latin America.
Chile is also home to far more foreign investment - including a Google data center, as well as facilities from HPE and Telefonica - drawing in nearly double the investment Argentina brought in in 2015, according to UN figures.
But that could be set to change, with Macri aggressively courting investment after years of financial and political unrest discouraging foreign businesses.
Macri, who assumed power in 2015, has taken steps to change things, and this year began a broad crackdown on corruption. His efforts have found success in the financial, oil and gas, and lithium markets, but AWS would make a large win for foreign technology investment.