A building under construction in the Tokyo suburb of Tama which caught fire last week appears to have been a data center, due to be completed later this year. The blaze continued for eight hours, killing five people and injuring 50.
The fire broke out in a sub-basement of a three-story building under construction in a Western Tokyo suburb. Japanese news site Nikkei xTech believes the building that caught fire was due to become a new facility for Amazon Web Services (AWS).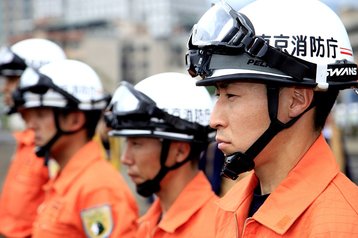 Amazon burns
The building site, at Tokyo Tama City Karakida 1, is "highly likely" to be a nascent AWS data center, according to "several industry stakeholders," Nikkei xTech reported.
The building, described as "Tama Technology Building," started construction in 2016 and was due to be finished in October, with a total floor space of 17.7 thousand square meters (190k sq m). 
As well as the three stories above ground, it has four basement levels underground, where the fire broke out. The project was being handled by the Hazama Ando construction firm, on behalf of real estate company Mitsui Fudosan.
Mitsui Fudosan described the building as an "office center", refusing to reveal the identity of the eventual customer, but admited it would effectively be a "data center," Nikkei xTech said.
AWS has had a cloud region in Japan since 2011 - its second Asian region after Singapore. Earlier in 2018, it opened a local Osaka region. 
When the fire broke out, around 300 workers were on site. Four men died in the basement and another body was found on the third floor. Around fifty people were injured, according to the Tokyo Fire Department. Some 5,000 square meters of the building's space was damaged.
The fire was extinguished in approximately eight hours, after being reported at 1.50pm on Thursday. It is believed to have started after urethane insulation material was ignited by sparks falling from acetylene gas torches, which were used to cut steel frames in the the third basement level, police told Japanese daily news site The Mainichi. Investigators are considering the possibility that the blaze was caused by professional negligence.
DCD has contacted Amazon, and as yet we have no official confirmation of this story.