Amazon Web Services beat analyst forecasts to bring in $9.95 billion in revenues last quarter.
The 34.0 percent year-over-year increase was slightly down from the 34.7 percent increase last quarter, making it the fifth quarter in a row AWS growth has slowed.
The money machine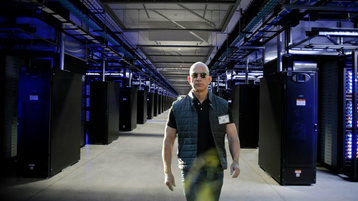 Revenue for Amazon as a whole came in at $87.44 billion, but for the $3.88bn in operating income that the company reported, $2.6bn (67 percent) was attributable to AWS. The cloud division's operating income was up 19 percent over the year before.
The company's success propelled it back into the $1 trillion club for the first time since September 2018. Its share price has since dipped and, at time of writing, Amazon is hovering at around $1tn, but may drop below it. Tech giants Apple and Microsoft are both firmly valued above $1tn, while Alphabet broke the mark in January, before falling out again.
In an earnings call (via SeekingAlpha) CFO Brian Olsavsky said: "[For AWS] we grew from a $30 billion revenue run rate at the end of 2018 to a $40 billion revenue run rate at the end of 2019. So, we continue to be happy with our top-line growth. In dollar terms as opposed to percentages, we had a larger dollar increase in revenue both year-over-year and quarter-over-quarter. So, we're very happy with the progress of the revenue and our adoption and acceptance by customers."
With its server life expectancy increasing, Amazon has extended the depreciation lifecycle from three years to four, leading to an $800m lower depreciation expense in the quarter.
But the cloud division is facing increasing competition, particularly from Microsoft, which also posted a huge quarter for Azure.
"As far as [the] competitive set is concerned, we think that we have started with a very big lead in this space because of our many years of investment not only in capacity, but also in services and features that we provide to customers," Olsavsky said. "We've learned from customers."
Unmentioned in the call was that this was the quarter in which Microsoft was awarded the Joint Enterprise Defense Infrastructure contract, worth up to $10bn over 10 years. AWS, which was the JEDI frontrunner for several years, is contesting the decision in court, claiming President Trump blocked the company from winning the Department of Defense cloud deal.