US telecoms conglomerate AT&T has announced two different partnerships this week for its cloud computing business.
AT&T and Amazon Web Services have agreed to a multi-year "strategic relationship," which will see the telco link business customers to AWS over its high-speed secure virtual private network NetBond, as well as work together on the Internet of Things. With IBM, the company announced it will run its applications on IBM's cloud, while IBM will deploy AT&T's FlexWare on its sites and sell it to enterprises.
With Amazon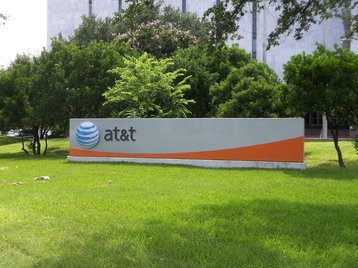 "Customers of all sizes are quickly migrating to the AWS Cloud to reduce their data center footprint, become more agile and take advantage of innovation in areas such as IoT, Big Data and Analytics," Terry Wise, VP of worldwide partner ecosystem, AWS said.
"Advanced connectivity and network solutions are critical to enabling our customers to get the most out of our services. We are excited to expand our alliance with AT&T and deliver new solutions designed to enable customers to accelerate their journey to the AWS Cloud."
Mo Katibeh, SVP, advanced solutions at AT&T added: "For many enterprises, the cloud's potential can be equal parts tantalizing and challenging. Emerging technology trends and fluctuating needs mean that a company's plans are dynamic, and can quickly change.
"Together, AT&T and AWS can help streamline the leap to the cloud. We're helping businesses connect everything and anything to the cloud. More importantly, we're doing this so it can be simple, scalable and highly secure."
The two companies will work together on new cloud networking solutions that aim to bring enhanced performance, security and mobility features as part of the NetBond ecosystem.
AT&T and AWS will coordinate on the roll out of AT&T IoT-connected sensors and devices that will send data to Amazon's cloud.
The companies said: "It brings together AT&T's global network, which connects nearly 29 million connected devices as of 2Q 2016 and reaches over 200 countries and territories, with AWS IoT, a managed cloud platform that can more securely and reliably scale to billions of devices and trillions of messages."
Finally, the two US giants will work with each other on cyber security, sharing knowledge and expertise on threats.
With IBM
"Working with AT&T, we continually are innovating in ways that not only meet our clients' business objectives, but also strengthen one of the industry's most powerful one-two punches," Richard Patterson, GM of Infrastructure Services at IBM, said.
"IBM will use these technologies to support the hybrid cloud evolution and deliver greater services to our clients."
Steve McGaw, a CMO at AT&T, continued: "Today represents the latest step in a long and mutually beneficial relationship between IBM and AT&T. By expanding our relationship with IBM, more customers will be able to take advantage of AT&T FlexWare that will adapt and grow with customers' business needs."
FlexWare, previously known as AT&T Network Functions on Demand, aims to make setting up and managing virtual network functions (VNFs) on a single device simpler. IBM's sales and marketing teams will sell FlexWare globally, while AT&T will run applications on IBM's cloud.
IBM previously partnered with AT&T on NetBond, and in December the company took over AT&T's hosted data center services.