AT&T and Lockheed Martin have successfully conducted the transfer of helicopter data through the use of a private 5G network.
The operator paired up with aerospace and defense company Lockheed Martin to incorporate 5G into military environments, and to prove interoperability between the networks was possible.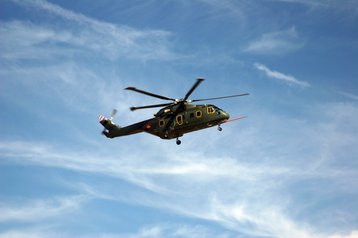 The tests saw AT&T transfer UH-60M Black Hawk health and usage data through a private AT&T cellular 5G network to Lockheed Martin's 5G.MIL network, with the pilot conducted at Lockheed Martin's Sikorsky headquarters in Stratford, Connecticut, on August 4.
AT&T claims that the tests reduced data transfer time for military helicopters by more than 80 percent, with the tests revealing that wireless 5G technologies on the flight line 'can support accelerated maintenance operations and improved aircraft readiness'.
Using ground support equipment, the operator transferred data from the Black Hawk's Integrated Vehicle Health Management System (IVHMS) to Lockheed's 5G.MIL network, a system that integrates military communications with tactical gateway capabilities.
Lockheed Martin used a mmWave network to send data from one of its Black Hawk helicopters to an operations center in less than five minutes, which is significantly quicker than the 30 minutes that it currently takes Black Hawk crews to remove data from the helicopter, and then for extraction.
Data from the aircraft was generated by hundreds of sensors, with this information processed and distributed through a pilot Lockheed network to a 5G test site in Waterton, Colorado.
"This is one of many areas of commercial 5G innovation we are exploring to support defense, commercial aviation, and related fields where our 5G-related services can modernize legacy processes and help deliver truly transformational benefits," said AT&T public sector and FirstNet client EVP Lance Spencer.