French IT services giant Atos has introduced the first ever commercial supercomputer to rely on processor cores designed by ARM.
The Bull Sequana X1310 will use the familiar Sequana X1000 architecture and Cavium's ThunderX2 chips to offer a system suitable for the most compute-intensive tasks.
"Atos designed the Bull Sequana X1000 system as an open platform, to offer HPC users a large choice of computer architectures from which to choose, and to support the future processor technologies that will make it possible to reach the exaflops level," explained Agnès Boudot, group VP and head of HPC at Atos.
"It is therefore a natural step to extend the range to include ARM processors, together with the existing CPUs, core processors and co-processors."
The announcement was made at the ISC High Performance conference in Frankfurt, Germany.
Believe the hype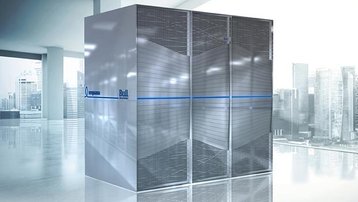 Processor cores designed by ARM are based on a reduced instruction set computing (RISC) architecture. This approach delivers less computational power per core, but can support more cores than a typical chip from Intel or AMD.
Such processors are cheaper, more energy efficient and require less cooling – however they have been struggling to find their niche in the data center.
A few years ago, it was fashionable to say ARM would power the cloud using a new class of 'microservers' – however this idea never truly lifted off. Instead, ARM-based chips are increasingly being adopted for HPC: for example, the upcoming 'Post-K' supercomputer being developed in Japan will be powered exclusively by ARM-based CPUs from Fujitsu.
Atos previously used ARM chips – namely Cavium's ThunderX - in the creation of prototypes for the Mont-Blanc project, an initiative supported by the European Union that aims to create compute nodes for an Exascale-class supercomputer. Now, the same technology will be made available to commercial customers.
Each Bull Sequana X1310 blade will include three compute nodes, each equipped with two 64-bit ThunderX2 processors. The system is expected to become available in Q2 2018.
"The Mont-Blanc partners are delighted by this announcement. We have long been convinced that, due to their energy-efficiency, ARM processors offer tremendous potential for High Performance Computing. We would like to give special thanks to the European Commission for their support throughout our project," said Etienne Walter, coordinator of the Mont-Blanc project.