On Tuesday, June 13, Dutch liquid cooling startup Asperitas will open a new showcase location for its water-cooled oil-immersion system that uses natural convection to circulate the dielectric liquid.
Its AIC24 module will be available to view at the atom86 (Schuberg Philis) data center in the Amsterdam Schiphol airport area.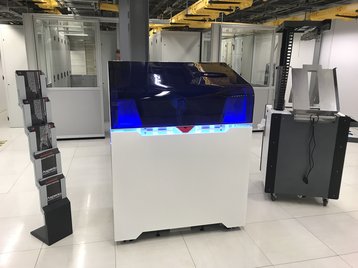 A cool solution
Atom86, part of Schuberg Philis, has its own fiber backbone. The Schuberg Philis data center as a whole has an IT area of 2,500 sq m (26,910 sq ft) and uses aquifer thermal energy storage and cooling towers to cool its equipment.
Asperitas' AIC would use its own cooling system, and can contain up to 48 servers in a twin configuration. The AIC can support any type of server mainboard up to a maximum size of E-ATX (12×13") for a 1U chassis. It can also accommodate two cassettes that hold switches.
The modular data center supports up to 22kW of pure IT power with a footprint of 600x1200 mm.
The company said that it plans to bring its AIC to other European data centers, including France and the UK, soon.
For more on Asperitas, Iceotope and cooling as a whole, be sure to subscribe to the next issue of DCD Magazine - out tomorrow. It looks at both liquid cooling companies, as well as cooling in general in a special supplement all about keeping data centers cool.