Italian data center firm Aruba has launched two new data centers at its Bergamo campus in Lombardy.
The company this week said its IT3 technology campus in Ponte San Pietro outside Milan is now also home to two further 'future-proof' data centers. The company said it had invested €500 million ($521.9m) in the new facilities.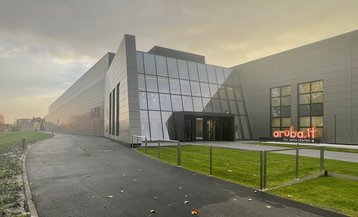 The first of the new data centers, known as DC-B, has an area of more than 17,000 sqm (183,000 sq ft) and 9 MW of power spread over three data rooms totaling 4,950 sqm (53,280 sq ft) of colocation space.
The second building, known as DC-C, is a multi-story data center with eight data rooms across two stories, a full-scale power of 8MW, and a total area of almost 14,000 sqm (150,700 sq ft) with 5,950 sqm (64,050 sq ft) of colocation space.
"We are proud to be able to officially present two new state-of-the-art Data Centres that will contribute to the digital transformation of the country," said Stefano Cecconi, CEO of Aruba. "We design our technological campuses not only with the aim of future-proofing them, but also to be as eco-sustainable as possible, so as to minimize environmental impact, make consumption more efficient - in full compliance with reliability and safety standards - and achieve the highest levels of certification."
The company has also launched the Aruba Auditorium, a new events space that provides a total area of 1,500 sqm (16,150 sq ft) and a seating capacity of around 400.
The Bergamo campus outside Milan now features three data center buildings. The original 17,600 sqm (189,450 sq ft) building offers 8,000 sqm (86,100 sq ft) of colocation space across 10 data rooms and 12MW of capacity.
The campus infrastructure includes photovoltaic systems, geothermal systems, and a hydroelectric plant on the nearby Brembo River. The campus has a capacity for up to five buildings totaling 60MW and 200,000 sqm (2,152,800 sq ft).
Founded in 1994, Aruba also operates two facilities in Arezzo and has one under development in Rome, with another facility in Ktiš in Czechia/Czech Republic.
Stock exchange company Euronext recently migrated from a UK data center outside London to the Aruba facility outside Milan, citing the regulatory uncertainty of Brexit as one of the reasons for the move.
More in Construction & Site Selection
More in Colocation & Wholesale