The AQuarius water cooled supercomputing system, that uses water cooling in standard Open Compute Project (OCP) racks,will be launched this week in Austin Texas.
The system, shown at DCD Internet in San Francisco in July, is a joint effort by Aquila Group and liquid cooling vendor Clustered Systems. It puts up to 108 servers,  in three separate power zones within a rack which is 48 OU (open units) tall. The liquid cooling happens via a "cold plate" interchange so the water circulation system can be plumbed separately at the rear of the rack. 
Aquila plans a formal unveiling in early January, but the system will be on show today at the Beowulf Bash, an annual party held during the SC15 HPC event in Austin Texas.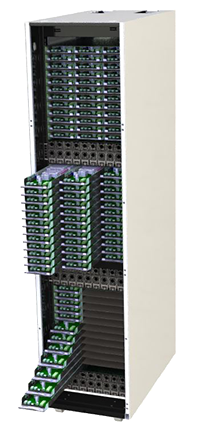 Out of stealth
"Our AQuarius OCP rack is a first of its kind, designed from the ground up for dense data center and HPC computing," said Bob Bolz, head of HPC and data center business development at Aquila. "We are aligned with a number of outstanding partners to provide HPC, hyperconverged data center solutions, or bare metal implementations as needed."    
Aquila teamed with Clustered Systems, which has been working on liquid cooling since 2007, to build a supercomputer in Santa Clara. A prototype will be delivered to Albuquerque New Mexico, in December. The eventual product is now available for sale more widely, from the Aquila Group site.
The system is purpose-built as a bare metal system, suitable for OpenStack cloud use or HPC data center provisioning. It promises a potential (partial) PUE as low as 1.06, with reliability better than 96 percent.
The rack includes power conversion form three-phase 48VAC to 12VDC as standard, with Emerson NetSure power conversion to handle a wider variety of AC feeds, so it can be used in various site power plans. 
The TouchIT liquid cooling system keeps the liquid separate from the electronics. Plumbing is at the back of the rack, and heat is transferred by a metal plate. Each blade has a thermal riser, like a heat sink, which makes contact with one side of the plate, while water cools the plate from the other side. 
Aquila believes that air cooling will reach a ceiling soon, and water cooling must be used, allowing the power per CPU to increase from 135W to more than 250W, with 100kW racks enabling data centers with a density of more than 4kW per square foot.