AquaComms has started to lay the $300 million America Europe Connect (AEConnect) cable from the West Coast of Ireland to Long Island - and has signed with colocation data center provider Equinix to deploy and sell fast links between London and New York.
The 5,400km AEConnect link is one of the first new trans-Atlantic cables for some time, and provides more than 52Tbps of connectivity, available in 100G SDN-compliant wavelengths to service providers and network firms. It is being laid at the same time as the Hibernia Express cable, and both are intended to provide more capacity and lower latency between Europe and America.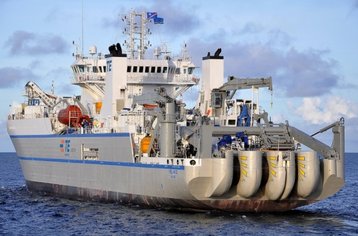 Important landing
The AEConnect cable was begun by the Irish Lights ship Granauile (above) on Friday 14 August off County Mayo Ireland, with the Reliance (right) taking over in deeper water. The cable should be carrying data by the end of 2015.
"This is the most important landing since [French general] Humbert in 1798," said the Irish Taoiseach, Enda Kenny, welcoming the start of the work by Ireland-based AquaComms, according to the Irish Times. General Jean Joseph Amable Humbert led a failed expedition by French revolutionary troops in 1798 to support an Irish rebellion against the British. 
When the cable lights up, it will provide a fast low-latency link between Equinix's New York and London data center campuses, both of which will operate as carrier-neutral network access points for others to connect to the AquaComms to subsea cable route.
"Responding to the demand AquaComms is seeing for high capacity, high reliability connectivity between North America and Europe, we made a strategic decision to deploy with Equinix," said Greg Varisco, COO of AquaComms. "Their data centers in New York and London act as major international hubs for network traffic, offering our customers the ability to extend existing networks or expand into new markets."
The route between New York and London is one of the world's busiest. It is the second largest Internet traffic route globally, carrying multiple terabits of peak traffic, and also carries growing amounts of provate network bandwidth which in 2015 at 13.9Tbps eclipsed the Internet traffic on the route for the first time, according to TeleGeography.
The changing dynamic was picked up by a statement from Tim Stronge, vice president of research at TeleGeography: "The international bandwidth market is undergoing a transformation. The traditional dynamic by which carriers link broadband users to global networks is still a core part of the market, but on the largest routes, content companies have overtaken carriers as the biggest bandwidth consumers. The largest content providers have become major customers of long-haul capacity as they expand their own internal networks. Increasingly, these entities have capacity requirements that exceed those of the largest carriers."
Equinix offers private network connections through its Equinix Cloud Exchange, and says dedicated private connections reduce network costs and give better network performance compared with Internet-based connections.
Others supporting the AquaComms link include Microsoft, which has invested in it, as well as in the Hibernia Express cable.