Apple is looking to build data center cabinets in Mesa, Arizona, a notification published in the Federal Register reveals.
The Mesa facility was originally a GT Advanced plant meant to supply sapphire for Apple screens, but after a messy and contentious relationship that saw Apple pull out of the deal, the company went bankrupt in 2014. Apple took over the factory, and turned part of it into a $2 billion data center.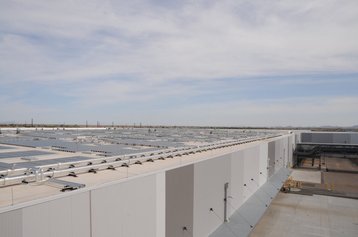 Made in America
"Apple Inc has repurposed the site as a global data command center that will conduct high-tech manufacturing of finished data center cabinets for other data centers," the document filed by The City of Mesa Office of Economic Development and spotted by Business Insider, writes.
"The nature of the product is not for end users but for other global data centers what will be supported from the site," a July filing said.
Last year, an Apple official wrote to the Foreign-Trade Zones Board, which approves zones that exempt companies from customs duty payments, saying that it had "an aggressive production go-live timeline of September, 2016."
Business Insider cites sources that claim Apple has already started building and testing cabinets at some of its data centers, including Oregon and North Carolina. It plans to consolidate and expand its operations in Mesa.
Apple, which last year signed a deal to move parts of its iCloud to Google Cloud Platform, and also uses Azure and AWS, has struggled to expand its own infrastructure. "The fact that Apple now has gone back and signed a deal with Google basically says they don't have as much faith in doing this internally as they thought they did," a source told The Information (paywall) in March last year.
The company is thought to have begun to ramp up its own data center hardware plans in 2016, partially because of concerns over state actors adding new or modified components that would enable unauthorized access, as the NSA did with Cisco components.
Apple's initiative to expand its own infrastructure was revealed last year to be operating under the codename Project McQueen. Since then, Apple has pushed forward with plans for a massive Irish data center and an Oregon facility, and could be set to expand in Reno, and come to Taiwan.