Nevada's main energy supplier, NV Energy, has joined Apple in asking authorities from the northern part of the state to approve an agreement which would see the latter use a 50MW solar farm, built specifically to power the expansion of its Reno data center, according to the Elko Daily Free Press. 
The pair struck a similar deal earlier this year, involving construction of a 200MW solar farm to help power the 35MW, 14 facility campus.
Green energy rider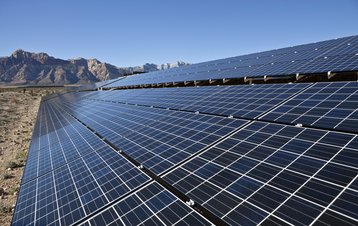 The joint venture between Estuary Capital Advisors and Sumitomo Corporation of the Americas, codenamed 'Turquoise Nevada,' would be owned neither by Apple nor NV Energy, but the latter would sign a power purchasing agreement with the plant's owners, and would then resell all of the energy it produces to Apple.
The deal falls under the utility's 'Green Energy Rider' offering, which allows customers to buy renewable energy.
The Nevada Public Utilities Commission (PUC) has become increasingly reluctant to encourage large generation projects by companies like NV Energy, trying to break down the consolidation of green energy offerings by major companies under its Energy Choice Initiative ballot.
The ballot is designed to improve competitiveness by increasing the number of providers, thus bringing down electricity prices for customers.
If this were to go ahead, NV Energy would reportedly have to rid itself of over $7bn in existing power purchasing agreements, without accounting for the proposed deal with Apple.
The final decision has not been scheduled as of yet, but the committee will hold a pre-conference on December 18th.