A High Court challenge has been brought against the Irish planning board An Bórd Pleanála granting planning permission for a 180MW data center in County Meath, Ireland.
Irish data center firm EngineNode was granted permission to build a data center campus in Bracetown and Gunnocks in July after An Bord Pleanála dismissed complaints from a number of local and environmental groups trying to prevent the development, as well as the company's own attempts to remove certain conditions around development.
The company first submitted plans to build four two-story data centers with a combined gross floor area of ~92,100 sqm (990,000 sq ft) and a substation on the 24.5-hectare site in 2019. The on-site 'energy center' has since been removed from the plans.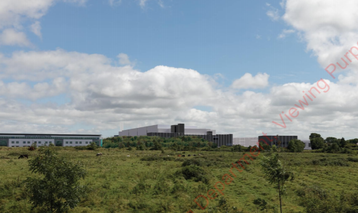 The new action has been brought by Mannix Coyne and his daughter Amy Coyne, who live at Bracetown, Clonee. At the High Court this week Justice Garrett Simons granted them permission to bring their judicial review proceedings. The pair wish to have the granting of planning permission reversed.
The Coynes claim the An Bórd Pleanála's decision is flawed, invalid, and should be set aside, arguing it does not comply with planning regulations, the 2000 Planning and Development Act, the 2015 Climate Action and Low Carbon Development Act, the EU Directive on Environmental Impact Assessments, and the EU Habitats Directive.
The granting of the permit will result in significant amounts of carbon dioxide emissions that affect the Coynes' constitutional right to life, physical integrity, and a healthy environment. The Coynes also claim there will be a loss of convenience, privacy, and serious harm to the equine business they run from their Clonee home.
Meath County Council originally granted permission for the facility last year but on the condition the company pay €1.85 million ($2.1m) towards the new Bracetown Link Road, which it tried to challenge. John Spain Associates, consultants for EngineNode, said there was insufficient basis provided to require EngineNode pay the "considerable" contribution.
Meath County's decision was also challenged by groups including An Taisce and Friends of the Irish Environment (FIE), who took the issue to An Bord Pleanála. However, these have now been dismissed.
Around the same time, Facebook claimed EngineNode had tried to build on lands owned by the social media giant without permission. The social media company operates a data center in Clonee, Co Meath, through its subsidiary Runways Information Services Limited to the south of EngineNode's planned development. According to An Bord Pleanála, EngineNode's proposed works included the provision of a roundabout and road through FB's lands without permission.