The Amsterdam Internet Exchange (AMS-IX) suffered a brief issue that impacted Internet connections and led to some packet loss.
The cause of the partial outage, which has now resolved, has not been disclosed.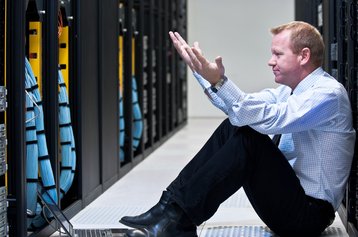 "There are currently issues at AMS-IX that are impacting Internet connections in the Netherlands," customer CYSO said on its status page. "We've redirected traffic through other parts on our network to minimize impact to our customers."
Dutch hoster TransIP also said that services hosted by AMS-IC were temporarily unavailable due to the outage, and that it was rerouting traffic through another peering partner.
Cloud service provider Openworx said: "There appears to be an outage at the major Internet node AMS-IX. You may experience slowness as a result."
The problem began around 10am local time, with inbound and outbound traffic falling from an expected 7.3Tb/s to just over 3Tb/s. Services began to resume around 11am.
"We're waiting for official confirmation before we restore connections," CYSO said.
Update: Bram Semeijn, PR specialist at AMS-IX, said: "The incident was short but affected many customers. 74.5 percent of all the BGP-sessions on the platform were interrupted. The incident occurred between 10:20 and 10:45. The incident is now resolved.
"The incident was caused by a regular test of a line card in preparation for standard maintenance on the platform. Due to an unfortunate set of circumstances, an action by an AMS-IX operator set the wrong settings on one of the ports, which created a loop on the production network. This loop disrupted the routing of packets across the AMS-IX platform, causing connected customers to experience outages.
"The issues were resolved by disabling the loop. "