Rolls-Royce will supply 23 diesel-powered emergency generators to EdgeConneX's Amsterdam data center as part of a new deal.
The generators will together supply 57 MW of power, and in the event of an emergency can power the data center for up to 48 hours. 
The sets run on a 20-cylinder Series 4000 engine, each producing 2,480 kW of electricity. They are supplied with a 30,000 liter fuel tank and installed in containers to meet noise control requirements. The engines meet EU Stage III/ Tier III emission requirements, and are capable of providing emergency backup for up to 20 years. 
They produce their full electrical output capacity within 15 seconds of start-up.
EdgeConneX's facility already owns 80 Onsite Energy diesel engines from Roll-Royce's MTU division.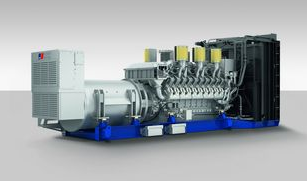 Partner power
American edge data colocation provider EdgeConneX expanded into Europe in January 2016 with the opening of its Amsterdam facility.
Its 23 American data centers are situated in second-tier US markets away from major internet hubs.
The company provides data center capacity for online video streaming companies and cloud service providers in these areas to cache data instead of transferring it over long distances from larger hubs.
It said it knows the quality of the generators' performance as a result of the global partnership it has with Rolls-Royce Power Systems, which owns MTU.
Chuck Bongiovanni, vice president of logistics and procurement at EdgeConneX, said: "We're delighted to have found in Rolls-Royce a global partner whose excellent service network means we can rely on them outside of the US as well."
Matthias Vogel, vice president of power generation at Rolls-Royce Power Systems, said: "This order from EdgeConneX is enabling us to take a further step in growing our market share of major data centers in Europe."
In July 2015, MTU announced an order from Chinese data centers and telecoms companies for delivery of its Series 4000 diesel engines. In February 2016 it revealed a €10.5 million joint production deal with China Yuchai for manufacture of its engines in China.