MTN Nigeria has confirmed that American Tower Corporation will take over its Nigerian tower operations from IHS Holding in 2025.
In a stock filing, MTN said it was re-negotiating its tower contracts in Nigeria, with the lease of approximately 2,500 of its network sites, of which IHS had provided services, expiring in 2024 and 2025.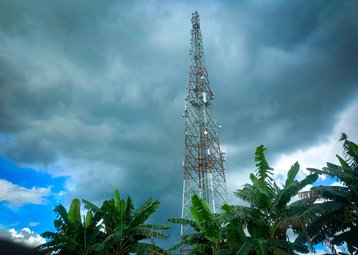 Nigeria is MTN's biggest mobile market, boasting over 76.7 million subscribers, per figures from March of this year.
Back in 2014, the operator and IHS struck an agreement to transfer the operations of more than 9,000 Nigerian towers to the specialist company.
MTN noted that it opted to select American Tower over IHS following the expiry of the existing deal following a review of bids received in a tender to operate the tower assets.
However, Bloomberg reports that, since MTN completed a sale-and-lease-back deal with IHS to take over more than 5,700 of its tower sites in South Africa in June of last year, the relationship between the two companies has become strained.
The publication notes that MTN is currently in a shareholder dispute with the tower firm, in which it holds 26 percent, over governance issues.
As for American Tower, the company has a strong presence in Africa through its African business unit ATC Africa, and has sites in Nigeria, Ghana, South Africa, Uganda, Kenya, Niger, and Burkina-Faso.
Last year, ATC Africa signed a multi-year, multi-product agreement with Airtel Africa to provide its communications sites across Kenya, Niger, Nigeria, and Uganda, to support Airtel's network rollout.
However, the company has been in its own disputes this year, and reportedly disconnected Telkom Kenya from its tower infrastructure for failing to pay site leasing fees last month.
Earlier this year, Ugandan telco Smile was frowning when it accused the company of causing a 15-month service outage by illegally disconnecting its network. ATC swiftly hit back at the claims and threatened legal action against the telco.