AMD has collaborated with Inventec to build a single server rack with one petaflop of processing power.
Project 47 is based off of Inventec's P-series massively parallel computing platform, and combines AMD's Epyc CPUs with its Radeon Instinct GPUs.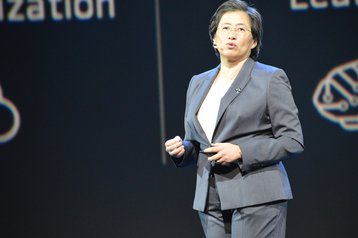 Feel the power
In total, it packs together twenty 2U P-47 systems, which each house a single Epyc7601 CPU, four Radeon Instinct MI25 GPU accelerators.machine and half a terabyte of memory. A Mellanox 100Gb InfiniBand router is built into the rack.
"To bring Project 47 to life, AMD worked closely with Samsung Electronics with respect to the HBM2 memory used across the "Vega"-based product lines including the Radeon Instinct MI25 accelerators," Mark Hirsch, corporate VP, systems & solutions for the Radeon Technologies Group, said in a blog post. 
"Samsung also provided high-performance NVMe SSD storage and high-speed DDR4 memory to enable the one petaflops of performance. "
He added: "The incredible performance-per-dollar and performance-per-watt of Project 47 makes supercomputing a more affordable reality than ever before, whether for machine learning, virtualization or rendering."
Project 47 will be available from Inventec and their principal distributor AMAX in Q4 2017.
For more on AMD, Epyc and the fight for the server market, be sure to subscribe to the magazine. In our next issue we talk to Dr Lisa Su, as well as profile the market leader - Intel.