Amazon and its cloud services business continue to grow aggressively, with the latest earnings report showing a total year-over-year revenue jump of 22 percent to $43.7 billion.
AWS itself increased revenue by 47 percent, to $3.5 billion, but both AWS and Amazon as a whole missed analyst expectations, causing share price to fall.
More money, less problems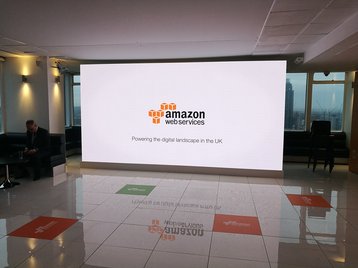 The company saw its seventh straight quarter of profit, which hit $749 million in net income.
But Amazon has continued to invest heavily to ensure it expands further - spending billions on warehouse hubs, Indian expansion, original programming, and cloud infrastructure.
It also warned investors that it expected a first-quarter operating income of between $250m and $900m, down from $1.1bn for the same period last year due to increased expenditure.
Earlier this month, Amazon announced that it would build a $1.5bn air cargo hub at the Cincinnati/Northern Kentucky Airport in Hebron to have more control over its supply chain.
Ruling the cloud
Still the clear leader in terms of market share, Amazon Web Services remains the dominant force in the cloud sector.
In an earnings call, CFO Brian Olsavsky said that one of the key reasons for this was that the service is rapidly adding new features - 300 in the fourth quarter, and more than 1,000 in the full year.
"We've been pretty clear this business is [about] giving new functionality for customers, giving price cuts and then working on the operating efficiencies," he said.
AWS achieved a profit margin of more than 25 percent for the full year, but has seen seven price cuts in the fourth quarter alone due to competition. Olsavsky said that regular cuts are "going to be a constant in this business," but that the company still expects growth.