Amazon will fund a 189 megawatt wind farm in Hardin County in northwestern Ohio to help power its three new data centers in the state.
Thought to cost $300 million, the Hardin project is expected to begin generating power in December 2017, and will generate 530,000 megawatt hours (MWh) of wind energy annually.
The green king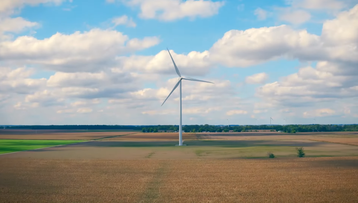 The cloud company is working with EverPower on the project, which the developer has been planning since 2013, overcoming local resistance in the Ohio Supreme Court in 2014.
EverPower will construct, own, and operate the new wind farm, and had hoped to build it long before Amazon's involvement, but may have struggled to do so without the guaranteed business AWS provides.
"We applaud Amazon's goal to power the global infrastructure for the industry-leading AWS Cloud with renewable energy and are pleased to collaborate in this effort," Jim Spencer, CEO of EverPower, said.
"Leading companies like AWS are enabling the construction of large, utility-scale renewable power projects that will ultimately help to off-set the energy supplied by fossil fuels and create a cleaner, healthier environment for our communities."
Peter DeSantis, VP of Infrastructure at AWS, said: "We remain committed to achieving our long-term goal of powering the AWS Cloud with 100 percent renewable energy.
"There are lots of things that go into making this a reality, including governments implementing policies that stimulate cost-effective renewable energy production, businesses that buy that energy, economical renewable projects from our development partners and utilities, as well as technological and operational innovation that drives greater efficiencies in our global infrastructure.
He added: "We continue to push on all of these fronts to stay well ahead of our renewable energy goals."
That goal is to reach 40 percent renewable energy use on AWS global infrastructure by the end of 2016, 50 percent renewable energy by the end of 2017, and 100 percent renewable energy usage at some point in the future.
To achieve this, the company makes use of power purchase agreements like the Hardin project, where the specific power generated from a renewable source may not necessarily go towards an Amazon system, but is paid for by the company and added to the grid.
The company previously announced the 100MW Amazon Wind Farm US Central in Paulding County, Ohio, which will start energy production in May 2017, as well as the in production 100MW Wind Farm Fowler Ridge in Indiana and 80MW Amazon Solar Farm US East in Virginia. Next month, the 280MW Amazon Wind Farm US East in North Carolina is expected to start generating electricity.
Once the Hardin wind farm is complete, AWS' renewable energy projects hope to generate 2.2 million MWh of energy annually.