Amazon is planning to build a new data center lot at Hermiston, in Oregon's Umatilla County, consisting of four server-filled facilities. The park will be built on a 120 acre stretch of land, adjacent to the local power plant.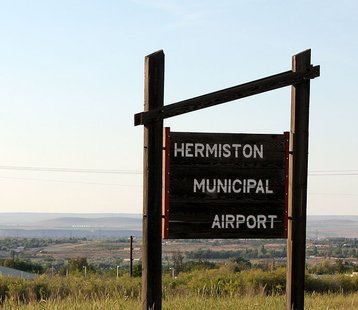 Oregon' break my heart?
Although it is highly probable, the complex is not yet a done deal, as the Umatilla County Board of Commissioners has yet to hold a vote to rezone the land from the "farming" category to "light industrial." This is due to take place on Thursday March 23rd.
If approved, the complex will serve as back-up and recovery for the multinational's existing facilities in the area.
With two sites in the Port of Morrow Industrial Park (Boardman) and another underway at the McNary industrial park just outside of Umatilla, Amazon has a total of eight data centers either built or under construction along the Columbia river. Vadata - the holding company and Amazon subsidiary responsible for the construction -  is reportedly discussing another future construction in Boardman.
To justify the construction of multiple sites rather than one, Vadata's real estate development manager Jim Footh, told the East Oregonian: "we cannot create that redundancy and risk aversion by developing a single, super-size data center campus. Rather, to achieve redundancy and risk aversion, our campuses must be located a few miles apart."
The high energy requirements necessary to operate the multiple data centers will be met by the high-voltage power lines connected to the neighboring generating plant. Vadata has also signed a letter of intent to use the regional water system. The company has agreed to fund any necessary improvements to the system.
A mutually beneficial relationship
Although data centers don't directly employ very many people, Carla McLane, Morrow County planning director hopes to see an increase in tax revenue thanks to the construction, and Port of Morrow general manager Gary Neal believes it will create a diversification of the job market in the area. As well as the forty odd jobs created by each data center, Umatilla City Manager Russ Pelleberg said, the construction process brings a number of temporary workers into town, providing income for local commerce.
Further, the Blue Mountain Community College now offers a data center technician course, with all but one of last year's graduates having found employment in the field, according to instructor Pete Hernberg, 
Pelleberg stated that the council are planning a $3 million plan to recycle the complex' water, rerouting it to the West Extension Irrigation District for farmers to use.
Oregon is considered an attractive location for data center construction, offering significant local property tax breaks as well as sales and equipment tax exemptions.
In 2015, the State of Oregon threatened to impose taxes on properties depending on a company's market value, leading tech companies and telcos to become wary of buying property within the state borders. But after much contestation, data center tax exemptions were maintained.  
Hermiston's city manager, Byron Smith, is reportedly in talks with his peers regarding an extension of the Hermiston Enterprise Zone, which would allow Vadata to benefit from additional tax breaks on the complex.