Amazon Web Services (AWS) is looking to build a data center in the City of Gilroy, California.
The company is planning a development on a 56-acre plot along highway 101, between Leavesly Road and Gilman Road. The company paid $31.3 million for the plot in 2020 from local developers.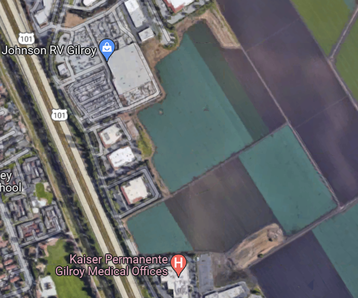 According to documents filed with the City, the company is looking to build two 49MW data centers buildings on the site totaling 438,500 square feet (40,700 sq m), along with two 50MW Battery Energy Storage Systems (BESS) and some ancillary buildings.
The site would be developed in two phases. Phase I would include the first single-story data center building totaling approximately 218,000 square feet (20,250 sq m) and 50MW BESS facility and 25 diesel generators. Phase II, constructed within 4-7 years 'based on customer demand,' would consist of the second single-story data center building, a second 50MW BESS facility and as yet undetermined 'alternative backup generation technologies' to avoid the use of diesel-fired generators. The company said the facilities would have an average PUE of 1.18.
In an interview with CBS, Peter Leroe-Munoz, Gilroy Vice Mayor Pro Tempore said: "I think it's time that Silicon Valley finally recognizes that the southern-most city in Silicon Valley is certainly open for business and has so much to offer."
The City of Gilroy is currently soliciting bids in order to determine the environmental impact of the proposed facility.
"Gilroy has put out a request to get consultants outside of the city to come in and assist us with fully understanding what the benefits of such a project might be, as well as some as what the drawbacks might be, and what opportunities we have as a city to try to mitigate some of those negative impacts," said Leroe-Munoz.
Gilroy, located in Santa Clara County and some 30 miles southeast of San Jose, has little in the way of data center presence.
The plot is close to a 60-acre site Amazon is developing into a large distribution center under the name 'Project Garlic.' In 2019, Google purchased a 40-acre rectangular plot to build in Gilroy a nursery in order to grow their own trees for the company's real estate developments.