Amazon has paused construction on a giant new campus in Northern Virginia.
The company cited layoffs and the growth of remote-work culture for stopping construction. It will still finish the first phase of the Arlington project, with space for more than 8,000 workers across two office towers in a 2.1 million square foot (195,000 sq m) development known as Metropolitan Park. The company plans to fire more than 18,000 staff.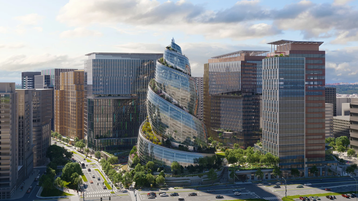 That is expected to launch this summer, but the second 'PenPlace' phase has been paused indefinitely. It was set to add another 2.8 million square foot (260,100 sq m) campus with three office towers and the 'Helix' spiraling tower that many have compared to the poop emoji.
A groundbreaking for the second phase was originally planned for the start of this year. "We're always evaluating space plans to make sure they fit our business needs and to create a great experience for employees," Amazon's real estate chief John Schoettler told Bloomberg.
"And since Met Park will have space to accommodate more than 14,000 employees, we've decided to shift the groundbreaking of PenPlace out a bit."
The site was approved by the county with the understanding that Amazon met construction and permitting milestones by April 2025, unless an extension is granted. Government entities in Virginia committed around $800 million in tax breaks and infrastructure improvements over 15 years, in return for a commitment from Amazon to spend $2.5 billion and hire some 25,000 workers.
The tax breaks were given after Amazon in 2017 controversially pitted cities and states against each other in search of the best deal for a second headquarters. It ultimately settled on splitting its new HQ between Virginia and New York, but the latter project was shelved after local and political pushback.
Amazon has also paused office construction projects in Bellevue, Washington, and in Nashville, Tennessee, as it reworks designs for a hybrid work world. Last month, Amazon CEO Andy Jassy said the company would require corporate employees to return to the office at least three days a week.