Chile is considering expanding its submarine fiber cable network south to Patagonia and across the Pacific Ocean to China, in a project that could cost $550-$650 million and stretch some 20,000 kilometers (12,427 miles).
The nation, which is keen to upgrade its communications infrastructure, has already received expressions of interest from companies like Amazon and Alphabet's Google, telecoms undersecretary Rodrigo Ramirez told reporters.
Bringing the Amazon to South America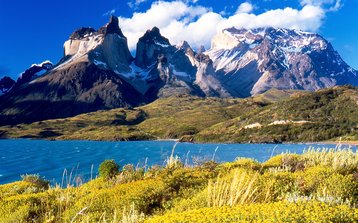 Amazon in particular has expressed interest in placing a data center in Patagonia - the region at the southern end of South America, shared by Argentina and Chile, Chilean ministry technical head Sebastian Beeche told Reuters.
Beeche added that President Michelle Bachelet would discuss the data center with representatives of the company during a visit to Seattle on Tuesday.
In March, Amazon Web Services signed a memorandum of understanding with the government of Chile "to modernize government services within the country."
Amazon's data center presence in South America is currently limited to Brazil, but Beeche said that the company is keen to expand into Chile due to its relative economic and political stability and cooler climate.
Chile, which is already home to a Google data center, as well as facilities from HPE and Telefonica, is a growing market for the data center industry, and is eager to expand.
As for the submarine cable, while the government has said that it wishes to undertake the project, it remains in the early planning stages. Three routes are currently being discussed - one from Chile's coast via New Zealand and Australia, the second further south via New Zealand, and a third via Tahiti.
The cables could potentially link to Easter Island, which is governed by Chile.
The government said that it was hoping to make a decision on the route later this year and revealed it was in discussions with China, as well as other South American countries. China has been known to provide low-interest loans for similar projects, including funding a submarine cable between Venuzuela and Cuba.