Amazon is paying to build a 208 MW wind farm across two counties in North Carolina. The farm will come onstream by the end of 2016. 
The news could partially silence complaints from the activist organization Greenpeace and requests from some of Amazon's largest customers to be more transparent about the use of clean energy in Amazon Web Services (AWS) data centers.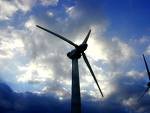 Big economic impact
The $400 million investment in Amazon Wind Farm US East will see the US renewable energy division of Spanish company Iberdrola, S.A, Iberdrola Renewables, build and operate the wind energy plant, which is expected to be able to deliver 670,000 MWh of electricity when it goes online at its projected December 2016 operational goal.
According to WRAL-TV of Raleigh, NC, the project will provide as many as 250 jobs during the construction phase, and when operation, pay approximately $1.1 million in tax and lease payments, having a significant economic impact on the local area. The installation will be the first commercial scale wind farm development in North Carolina.
Currently, roughly 25 percent of the power used by Amazon data centers is from clean or renewable energy sources. In late 2014, Amazon made a public commitment to eventually be 100 percent renewable, and is projecting top reach 40 percent of that goal by the end of 2016. Of course, the barrier to this is the availability and cost of renewab le power.
Amazon has signed up for an 80MW solar farm in Virginia, where its data centers are at the moment get half their power from the local utility, Dominion Power, which has only 2 percent of their energy derived from green sources.
The North Carolina wind farm follows the announcement of a 150 MW wind farm in Benton County, Indiana, called the Amazon Web Services Wind Farm (Fowler Ridge), which is expected to be online by January 2016.