French telco group Altice has formed a new company holding more than 250 data centers in France and is selling a majority stake to Morgan Stanley.
Altice France announced this week it has agreed to sell 70 percent of the new company, UltraEdge, to Morgan Stanley Infrastructure Partners (MSIP). The transaction values UltraEdge at €764 million ($836.5m) and is expected to close in the first half of 2024.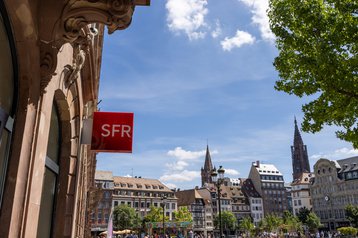 UltraEdge is described as a 'nationwide independent distributed colocation provider', with 257 data centers plus office space across France, totaling more than 45MW of installed capacity. The facilities are currently run by Altice's mobile operator subsidiary SFR.
DCD has reached out to Altice for more information about these data centers. If UltraEdge has 45MW distributed in 257 sites, it suggests an average of 200kW per facility, and the total price works out at around $3 million each.
Altice's release says the passive infrastructure and equipment of the data centers will be transferred to UltraEdge, with servers and active equipment retained by SFR.
SFR will also enter into a build-to-suit agreement with UltraEdge, expected to generate approximately €175 million ($191.5m) within the next seven years.
"The distributed nationwide footprint of data centers uniquely positions UltraEdge as the first scaled mover in the Edge data center market in France, benefiting from the increasing demand for ultra-low-latency services where data storage and compute is needed closer to the end user," Altice said in the announcement.
Altice has debts totaling $60bn, and the company is facing a corruption probe in Portugal.
Reports first surfaced in November 2022 that the telco, founded by French-Israeli billionaire Patrick Drahi, was looking to offload up to 92 data centers in its home country, reportedly comprising a 'handful' of larger sites and 'dozens' of smaller facilities. By September it was reported Morgan Stanley was interested, valuing the deal at around €1 billion ($1.07bn).
The company is also reported to be selling its Covilhã data center in Portugal for €100 million ($107.8m).
Altice's French subsidiary SFR reportedly operates around 26 data centers totaling 93,000 sqm (1 million sq ft), while Altice also owns a number of television channels and radio stations. Altice Portugal operates five data centers totaling 17,000 sqm (183,000 sq ft).
Founded in 2006, Morgan Stanley Infrastructure Partners is a private infrastructure equity investor, targeting assets that provide "essential public goods and services," primarily located in OECD countries. With investments in transportation, digital, energy transition, and utilities, the company has invested in fiber firms Fast Fibre, Tele Columbus, and LightPath, as well as tower firm Omtel.
"The sale is significant because SFR has delivered an actual asset sale, whereas some had been worried it would not be able to deliver much or indeed anything, given some of the elevated rumored sale prices," New Street Research analyst Russell Waller wrote in a note reported by Bloomberg.