Alternative Heat, an engineering firm that makes prefab buildings, is designing and delivering 16 modular rooms for a planned data center in Ireland.
The name of the data center has not been revealed, but the company is described as an "international blue-chip" and the facility is supposedly one of Europe's largest.
3D models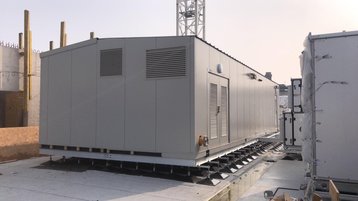 The contract is one of several secured by Alternative Heat. The Mechanical, Electrical and Plumbing (MEP) prefabs designed by Alternative Heat are purpose-built according to clients' wishes.
The firm uses Building Information Modeling (BIM), an "intelligent" 3D model-based process that gives architecture, engineering, and construction professionals the ability to plan, design, construct, and manage buildings and infrastructure.
Business Development Manager Fergal Hegarty said: ''We have focused strongly on the European data center market over the last 18 months, experiencing significant demand for our turnkey, design and build prefabricated solutions and we are delighted to have secured the MEP prefab contract on this prestigious project
''Given the current global pandemic and new, social distancing and safe working regulations, there has been a compelling increase in demand for BIM led offsite MEP solutions, fabricated within factory-controlled environments. We have built strongly on our teams and facilities over the last few years and are delighted to be at the forefront of providing innovative offsite solutions to meet these changing market demands.''