American data center specialist Aligned Energy has appointed a new CEO: Andrew Schaap.
The former senior vice president at Digital Realty will assume the position previously held by Aligned's founder and CTO, Jakob Carnemark.
The stars align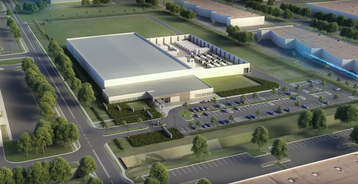 "To continue building upon the successful foundation we have laid at Aligned Energy, it is the right time to bring on a proven data center executive to run the business," Carnemark said.
"I have always said that as the business scales, I would like to bring in a CEO to manage our company so I may focus on accelerating our technology development to serve our clients.
"Andrew is widely recognized for his deep industry experience, close client relationships, and ability to execute. I couldn't be more excited to welcome him as we transition to our next phase of growth."
Schaap, who spent just under 11 years at Digital Realty, added: "I am thrilled to join such a high caliber team. After seeing Aligned Energy's data center platform and hearing directly from customers about their client-centric experience, I was eager to join."
The new CEO will be based in Aligned Energy's Plano data center, run under the Aligned Data Centers brand.
We visited the 100,000 sq ft (9,290 sq m) facility last year to see its most noteworthy feature - a cooling system designed and built by Aligned Energy subsidiary Inertech.
With this system, racks are placed on the solid floor in traditional aisle configurations, but are cooled by individual eSync fan units from Inertech, mounted overhead. The units are supplied by refrigerant using an Inertech cooling distribution unit (CDU), with the heat expelled by an Inertech Cactus heat rejection unit.
There is no need for raised floors or computer room air handling (CRAH), with cooling close-coupled to the racks. Chief engineer  Mark Kennaugh told us at the time: "CRAH doesn't remove heat, it just moves it."
The company's second data center, in Phoenix, opened earlier this year. Aligned Energy plans to eventually come to Northern California, Northern Virginia, Northern New Jersey and Chicago, Illinois.