Alibaba Cloud is launching nine new product offerings outside of China, which the cloud giant says will support digital transformation and drive new opportunities in the Asia Pacific (APAC) region.
Available globally, the new services cover a wide range of capabilities such as search, backup-as-a-service, dedicated hosting, security, data lake analytics capabilities and machine learning. There is also a software-defined wide-area network (SD-WAN) solution designed to help retailers connect to the cloud, created in partnership with China Unicom Global.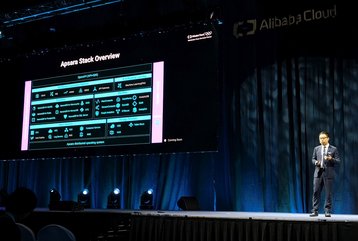 Apsara Stack
Also made available outside China would be Apsara Stack, the company's on-premises offering that lets enterprises run the Alibaba Cloud within their own data center as part of a hybrid or private cloud deployment.
Apsara Stack will be delivered in collaboration with HPE. While similar to Microsoft's Azure Stack, Alibaba says Apsara Stack is not subject to deployment limits and can scale as needed.
"Apsara Stack [offers] total independence [and] control with an experience consistent with the Alibaba Cloud. Alibaba has no access to your data center at all, which makes this ideal for governments, for [private clouds deployments], and for larger enterprises that need to consider data sovereignty, compliance and regulation," explained Derek Wang, the chief cloud architect of Alibaba Cloud International, at the Alibaba Cloud Summit held at Resorts World Convention Centre in Singapore.
Growing market in APAC
"Asia Pacific is a unique market, and as a global cloud services provider with an Asian origin, we are committed to leverage our knowledge and experience to build a sustainable regional ecosystem and enrich our offerings to meet the needs of our customers in this digital age. This new suite of offering includes products that are highly efficient, cost effective, and some of them are the first of their kind in the industry," Wang said.
Established in 2009, Alibaba Cloud has more than a million paying users and is China's largest provider of public cloud services. With 49 availability zones in 18 regions as of August 2018, Gartner last year reported that Alibaba Cloud had overtaken Google Cloud to take third position in terms of global IaaS market share.