The executive chairman and founder of Chinese e-commerce and cloud computing company Alibaba has met the President-elect at his New York tower.
In his meeting with Donald Trump, who has frequently threatened trade wars with China, Jack Ma pledged to create a million jobs by allowing small businesses to sell to China.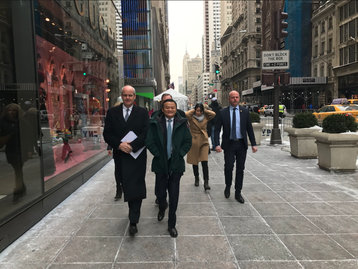 Frenemies
"We're focused on small business," Ma told reporters at Trump Tower.
"We specifically talked about… supporting one million small businesses, especially in the Midwest of America. Small businesses on the platform selling products — agriculture products and America services — to China and Asia, because we're pretty big in Asia." 
"We had a great meeting, and a great, great entrepreneur, one of the best in the world, and he loves this country, and he loves China," Trump said. "Jack and I are going to do some great things."
Ma believes that the million small businesses that will start selling on Alibaba will all hire someone to handle the sales, thus leading to a million new jobs. Criticism was previously raised over Trump's claims that a meeting he had with the CEO of SoftBank would lead to 50,000 jobs, even though the investment had already been planned.
While it does not seem that Ma and Trump talked about AliYun, Alibaba's cloud division, it is important to note that when the company opened its first data center in Silicon Valley in 2015 it said that it was targeting not only Chinese companies wanting to access the US, but also US businesses hoping to operate in China. It has since opened another US facility.
The meeting of Ma, perhaps China's most prominent businessman, and Trump, who as a candidate accused China of "raping" America, also marks an important moment in the forging of the new US-China relationship. 
Trump has threatened to impose trade tariffs on China, while Chinese-state run media has said such action would paralyze trade. The President-elect also controversially talked with the leader of Taiwan, going against decades of policy regarding 'One China,' leading to a formal complaint from China.