Ruggedized power specialist Acumentrics has launched a half-rack UPS delivering 1000W, designed for the military.
The product is designed for power-portability, with a high SWaP-C (size, weight, power, and cost) figure. It weighs 12lbs (5.44kg), giving a power density of 83W per pound, at 20 to 30W.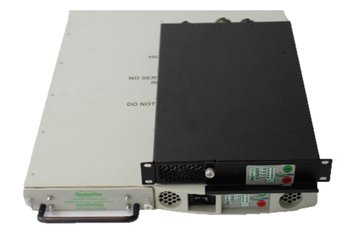 Despite the name, the product is one-third the size of a 1000W full-size chassis.  
The product is designed to support rugged micro data centers designed for quick deployment in challenging environments, such as military "Quick at the Halt" and "On the Move" tactical missions.
It's a Mil-Standard Certified box that complies with military demands for COTS (Commercial Off The Shelf) power systems, and can integrate with small modules from Dtech, KLAS, PacstarMercury, HP, Dell, and others :
"Our engineering team used advanced technologies and high-performance digital control to optimize the SWaP-C of the 1000W Half Rack UPS," said Steve Corbesero, Acumentrics senior VP of sales and marketing. "We've reduced the size and weight of this portable UPS, while providing the rugged power and runtime necessary for the warfighter to deploy fully operational electronic systems in austere environments. In military applications, this means portable power that can increase the survivability, lethality, and responsiveness of the combat soldier, while giving them the technical advantage at the tactical edge."
The system automatically adjusts for domestic and international input power and provides clean DC power, transitioning to its internal battery when AC power is lost. It has a user-replaceable battery pack featuring hot-swappable lithium iron phosphate (LFP) batteries with charge-level indication and status buttons.
It has an operational temperature of -40C to 60C and is available with optional SNMP management and an optional extended runtime battery.
It meets military EMC standards including MIL-STD 461F CE102, RE102, CS114/115/116, CS101 & RS103, and environmental standards MIL-STD-810-G, Method 514.6, Category 20, Figure 514.6C-3, Table 514.6C-VI, Method 516.6, Procedure I, Section 4.6.2.3 and Table 516.6-I, Ground Equipment.