Uninterruptible power supply (UPS) maker Active Power has based its business on flywheel systems which provide a short failover time. Its latest product is a departure: it is allowing batteries as a secondary source for customers who need longer runtime. 
The CleanSource HD UPS now has an option to use lead acid batteries to provide up to 30 minutes of UPS runtime, or else Active Power's CleanSource DC - a secondary flywheel system,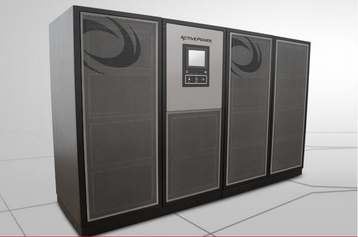 UPS autonomy
"CleanSource HD provides a 'belt and suspenders' [braces] approach for customers who want higher levels of reliability in their electrical design," said Todd Kiehn, product management director at Active Power.
Flywheel UPS systems are popular as an energy efficient way to provide power in the event of a supply failure, as they are reliable mechanical systems with low maintenance. They typically only provide a few seconds of power - enough for a diesel generator to kick in. 
Using lead-acid batteries can provide a longer runtime, but requires a large number of batteries which need maintenance and management using toxic chemicals. Combining the two can provide reliability, and ease the management issues of batteries and reduce the cost of using them, says Activec Power.
"This combination of motion technology and battery energy storage enhances system reliability with the flywheel extending the useful life of the battery by eliminating short duration discharges," said Kiehn. "As a result, initial and replacement battery costs are reduced, and coupled with higher operating efficiencies, helps lower total cost of ownership compared to legacy UPS."
Consulting engineer Steve Fairfax of MTechnology, reckons the combination can cut the risk of failure by 85 percent, in an outage lasting less than ten seconds. 
The flywheel energy provides primary backup protection allowing the generators to start, says Active Power. Battery backup will be needed in settings where applications in a cloud or virtualized environment have to be switched off, or if the system is backing up a microgrid.
 HD with Extended Runtime features battery monitoring software that provides key parameters; alarms and notifications; and can support up to six standard VRLA cabinets or one centralized battery disconnect.