Accenture's Federal Services (AFS) division has won the contract to build, fit out and manage a new data center for the Library of Congress. 
As part of a $27.3 million deal, Accenture will be responsible for the facility's design, sourcing vendor-neutral hardware and software, and will assist the library's IT team with systems migration. 
Based on an assessment of the library's 250 applications, the company will define where each app should be hosted, with a choice between shared hosting servers, private cloud systems, managed colocation facilities and externally managed services.
I would walk 838 miles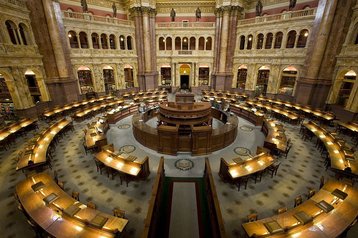 The Library of Congress is the largest library in the world, with 218 years of history. It is said to contain more than 167 million items on approximately 838 miles of bookshelves, including 24,356,449 books, 72,061,060 manuscripts and 14,897,266 photographs. It is also home to the world's largest collection of cartographic materials, fire-insurance maps of US towns and cities, comic books and US telephone directories.
Elaine Beeman, civilian portfolio lead at Accenture Federal Services, said the company was "honored" to have been chosen for the initiative.
She added: "We have assembled the best of Accenture's technology, data center and cloud professionals to rapidly make this vision a reality."
Over the years, AFS has served more than 30 US federal organizations engaged in defense, public safety, and civilian and military health. It maintains websites for the IRS, the Census Bureau and the Department of Education, and in 2014, when the Obama administration introduced healthcare reforms, it took over the management of Healthcare.gov. 
Last year, the division was hired to operate the US Department of Homeland Security's five data centers and manage its cloud infrastructure. IBM, which previously managed one of the data centers, protested the decision.
Accenture has also seen its share of scandal: in 2011, it chose to settle a kickback lawsuit which alleged the company had received pre-arranged payments from vendors bidding for federal contracts.