Consulting giant Accenture is deploying a SambaNova Suite high-performance computing (HPC) system, dedicated to AI.
SambaNova has developed its own 'DataScale SN30' processor for AI workloads, but only sells it as part of a wider package. The company's Suite offering is designed for generative AI use cases.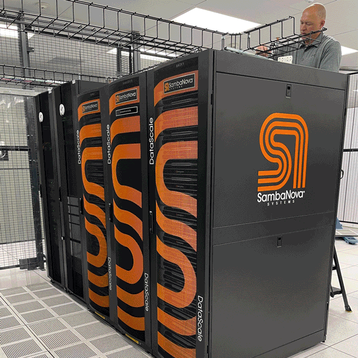 "Accenture is adding color to their data center with a multi-rack installation of SambaNova Suite to be leveraged for internal, generative AI enterprise use cases and to give their customers access to SambaNova Systems' industry-leading platform," SambaNova said this week.
Details of the location and scale of the SambaNava deployment weren't shared, but posted images suggest a three-rack deployment. Each DataScale SN30 42U cabinet can contain up to three DataScale SN30-8 systems, each with eight Cardinal SN30TM RDUs and 8TB total memory
Accenture and SambaNova announced a partnership in April 2023 to offer generative AI solutions to the consultancy provider's customers to provide pre-trained models that can be further refined using customer data.
Other SambaNova customers include the RIKEN Center for Computational Science (R-CCS) in Japan, the Lawrence Livermore National Laboratory, Argonne National Laboratory, and Hungary's OTP Bank.
Founded in 2017, San Francisco-based SambaNova has raised more than $1 billion from investors including Google Ventures, Intel, SoftBank, and Singaporean wealth fund GIC. Co-founder Christopher Ré previously founded data company Lattice, which was acquired by Apple in 2017.