IBM has broken ground on a data center for A1 Telekom Austria AG in Vienna Floridsdorf after the companies agreed on the project in August last year.
The 13,000 square meter (139,930 sq ft) Austrian facility is expected to be operational in 2018, with four server rooms totaling 2,550 sq m (27,447 sq ft). IBM and A1 Telekom have partnered since 2010 on managed services and cloud computing in the region.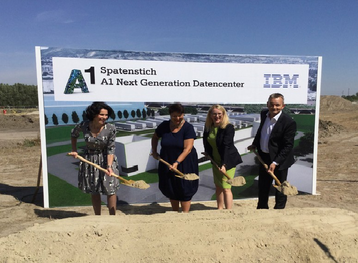 Data residency
"Our latest and most advanced data center expansion is based on an investment of €40 million ($45.6m)," Margarete Schramböck, CEO of A1 Telekom, said.
"This strengthens A1's ability to meet the significant increase in the volume of data that we expect by 2020, as the demand for data center services is growing dramatically as a result of digitization."
Tatjana Oppitz, country general manager of IBM Austria, added: "In times of regulatory change in the telecommunication industry, this agreement will help A1 Telekom Austria offer a comprehensive range of IT services from a robust plant to its individual and business customers in a timely and cost-effective manner.
"By integrating into the redundant data center network of A1, maximum security and efficiency are ensured for secure data storage."
The six megawatt data center has been designed to Tier III redundancy levels. In cold months it plans to use outside air to help cool its facility.