The 10,400 km (6,400 mile) Asia Pacific Gateway (APG) submarine cable is now live, with a peak capacity of more than 54Tbps.
The cable has connectivity points in Mainland China, Hong Kong, Taiwan, Japan, Korea, Malaysia, Singapore, Thailand and Vietnam.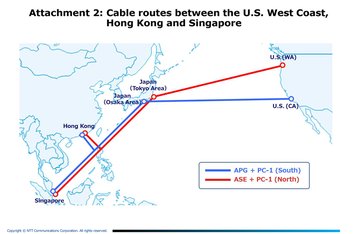 Telcos together
Back in 2009, several telecoms companies from across Asia announced they would invest in the APG project - Chunghwa Telecom (Taiwan), China Telecom (China Mainland), China Unicom (China Mainland), KT Corporation (Korea), NTT Communications (Japan), PLDT (Philippines), Telekom Malaysia (Malaysia) and VNPT (Vietnam).
The need for the new cable became ever more pronounced when the Asia-America Gateway cable began to suffer a series of outages that particularly affected Vietnam and Malaysia, after repeated breaks and ruptures on the AAG cable.
In August 2012, the consortium of telcos launched the Asia Submarine-Cable Express (ASE), a 7,800 km (4,800 mile) 15Tbps cable linking Japan with the Philippines, Hong Kong, Malaysia, and Singapore.
The new APG fiber cable connects with the Pacific Crossing-1 (PC-1) South cable in Osaka, Japan, to then connect with the US. For diversity, the ASE cable connects with PC-1 North, from Tokyo.
For more on submarine cables, their history, and their future, be sure to check out our feature on the industry from our October magazine.