A company called Best Wonder Business (BWB) is planning to develop a data center powered entirely by solar power in Aragon, Spain.
According to the Aragon government site, the company is to develop a 16MW data center in the Huesca Logistics Platform (Plhus) business park outside Huesca, in the Aragon region.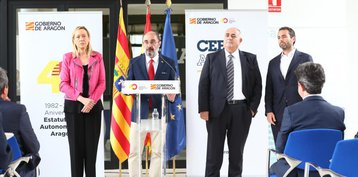 The €230 million ($264m) project will be delivered in phases. The first will see four solar farms totaling 178MWp developed; the 18-month project will start this year with €110 million ($117m) in investment. The farms will be located in Alfajarín and Perdiguera, in the province of Zaragoza.
The second phase will see a data center developed on a 40,000 sqm (430,500 sq ft) plot of land in Plhus will be developed in two phases: the first with 8MW and an investment of €70 million ($75m), and the second with 8MWp with an investment of €60 million ($64m). Work is due to being in 2023 and be completed in 2024.
The data center part of the project will be done through BWB subsidiary, Greenest Aragón Data Center SL.
The solar plants will be built through BWB's subsidiary Progressum Energy Development SLU, a Spanish company founded in 2012 dedicated to developing renewable energy projects.
One of the farms will have 53 MWp of generating capacity, two will have 49.99 MWp each and the fourth will produce 25MWp.
Though the facility will aim to be self-supplied by the solar plants, it will still connect to the local grid. It will also have on-site batteries for energy storage. Colliers is working with BWB on the project.
"Energy is a key and differentiating element in the development of data centers. Progressum contributes its know-how in photovoltaic projects, integrating the generation of renewable energy as a backbone of its proposal for the data center market. The Colliers Data Centers team has advised from the beginning of the project on aspects such as the conceptual design of the building, the purchase of land, or the preparation of a business plan for the construction of the asset. This transaction is the best example of the excellent synergies that can be created between the logistics market, the data center market, and the energy sector," said Jose María Guilleuma, director of data centers at Colliers.
There is very little information about BWB or Greenest Aragón available online. According to the Aragon government site, BWB is reportedly developing 56 renewable projects throughout Spain, as well as six data centers in Aragón, Navarra, Barcelona, ​​Valencia, Madrid, and Seville.
The BWB center in Plhus will be located next to one of the three Amazon Web Services (AWS) data centers in the region.
A version of this story appeared on our Spanish edition.
More in Construction & Site Selection