The Indian Institute of Technology Kharagpur (IITK) has inaugurated a new supercomputer.
The new machine, known as Param Shakti, has a total peak performance of 1.6 petaflops.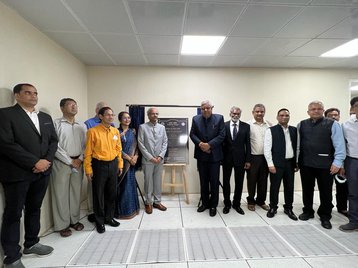 The system features 384 CPU nodes (15,360 cores) equipped with Intel Xeon Skylake processors, and 22 nodes with Nvidia Tesla V100s (880 cores). It is located at IITK's High-Performance Computing Facility.
IITK is a technical university located in Kharagpur, West Bengal. The Institute signed an MoU with the Centre for Development of Advanced Computing (C-DAC), an autonomous Scientific Society of the Ministry of Electronics and Information Technology, Government of India in March 2019. The system went live last year but was yet to have an official opening ceremony, which was attended this week by West Bengal Governor Jagdeep Dhankhar.
Param Shakti is the latest machine deployed under the Indian Government's National Supercomputing Mission (NSM). The NSM plans to build and deploy 24 facilities with a cumulative compute power of more than 64 petaflops. More than 10 systems, including Param Shakti, have been deployed so far totaling around 20 petaflops.
The NSM has seen the 1.6 petaflops Param Ganga installed at the Indian Institute of Technology (IIT) Roorkee and the 3.3 petaflops Param Pravega from Atos installed at the Indian Institute of Science (IISc) in Bengaluru/Bangalore.
Governor Dhankhar said: "Innovation and research alone determine whether a nation will continue to be on development trajectory or not. It's the intent of giving back to the society and not the scale that matters more. The Azadi ka Amrit Mahotsav [a Government initiative to celebrate and commemorate 75 years of independence] is an opportunity to be availed by all of us to know our real heroes."